Name: Swagbucks
Website: http://www.swagbucks.com
Price: Free to join
Owner: Josef Gorowitz, Scott Dudelson, Ron Leshem, Eron Zehavi
Overall Rank: 73 out of 100 … Very limited earning potential
Product Overview – What is "Swag Bucks"?
---
"Swag Bucks" is the virtual currency you can earn by using various services that Swagbucks.com provides. It may be easy to understand if you imagine a reward program with a credit card or airline company. The more you fly, the more mileage (rewards) you earn. The more you use a credit card, the more points you earn, right? That's exactly how Swagbucks.com works. The more services you use on the Swagbucks homepage, the more rewards (Swag Bucks) you earn.
One Swag Buck (1 SB) is roughly 1 cent. Then you can turn these rewards into real prizes such as gift cards or cash via PayPal.
Pros and Cons
---
Pros
It's 100% free.

The website is easy to navigate.

You can earn "Swag Bucks" (rewards) for things you are already doing, such as online search or shopping.

You can redeem Swag Bucks in several ways, such as gift cards or cash via PayPal.
Cons
Very slow to build up Swag Bucks you can cash out.

You don't earn Swag Bucks for every search you do.

The value of Swag Bucks fluctuates depending on the prize you redeem.

Their search engine is not as good as Google (They use Bing's search results)

Long wait to get paid (7-15 days)
Who is Swagbucks For?
---
Swagbucks is for everyone who wants to make a little extra money on the side. 
If you are already doing things such as online shopping, watching videos, playing games or just searching for information, why not earn rewards for things you are currently doing for free anyway, right?
So, if you value any little stream of income coming in, even if it's $10-$20/month, and think it's better than none at all, then Swagbucks is the right place for you.
Who is Swagbucks NOT For?
---
Swagbucks is not for those who wish to make a living online. There is no way that you would make a full-time income with Swagbucks, no matter how long you stay with the program.
It is not an online opportunity to replace your 9-5 job, nor is it a program that would educate you on how to obtain financial freedom. Join Swagbucks today, and five years from now you'll be still spending the same amount of time, hours and hours just to make a few bucks.
In short, there is no growth in it. Money-wise or skill-wise, you won't gain much from it, and if you think that's a waste of time (like I do), then Swagbucks is not for you.
How Does Swagbucks Work?
---
The process you take to make money at Swagbucks.com is quite straightforward. It pretty much comes down to the three steps as follow:
1. Sign Up for Free
All they ask is to provide your email address and password. Registration itself earns you 11 SB (Swag Bucks) as follows.
Signing up … 4 SB
Setting a security question … 2 SB
Telling them how you found the program … 5 SB
2. Use Their Services
These are the services you can use and earn your rewards at Swagbucks.com.
Online Shopping

Watching promotional videos

Participating in surveys

Using their own search engine

Playing games
3. Get Paid
You can redeem your SB (Swag Bucks) in the following ways:
Cash via Paypal

Gift Cards

Entertainment

Swagbucks Sweepstakes
If you want cash via PayPal, 1000 SB will earn you $10. Just bear in mind that the value of Swag Bucks could vary depending on the prize you redeem.
Not Every Service Is Worth Your Time
---
I have tried several services just to see how many SB I can earn, and I must say not all the services is worth spending your time even for free prizes.
First off, watching video is a very time-consuming and tiring process. It even doesn't pay you much. You normally have to watch 10 videos just to earn 1 or 2 SB, and the system requires you to stay at least 35 seconds on one video before you move to the next.
I did the math.
35 sec X 10 = 350 sec = 5 min 50 sec.
Ok, so you spend almost 6 minutes and what you earn is only 2 SB? It is ridiculous.
If I am to watch ONE video of MY CHOICE for 6 consecutive minutes and earn 2 SB, then I can understand. I would easily spend an hour watching a video of cute puppies like the one below, so why not watch it at Swagbucks instead of YouTube if I get something out of doing so, right?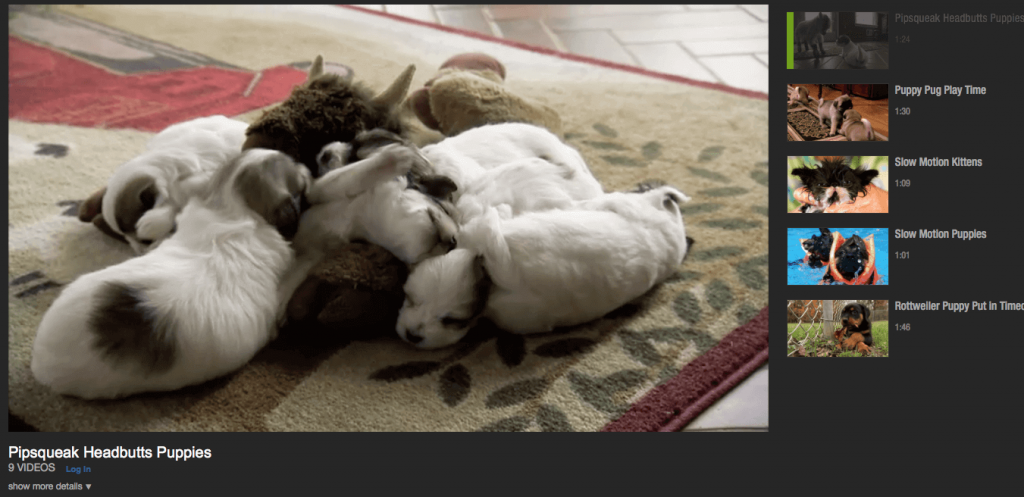 But having to go through 10 different videos, which I don't even get to choose, is nothing but pain and not at all worth 2 SB (2 cents) only.
Online shopping could be worth trying as they have many major online stores in the system. Amazon is one of them. So, if you already shop at Amazon, why not do so through Swagbucks.com so that you automatically earn SB for each dollar you spend.

The best option, in my opinion, to receive SB on Swagbucks.com is to perform online searches on their search engine feature. Unlike shopping, this is something that we do almost every single day. Besides, you don't have to spend money to earn SB like buying things online.

However, take note that you don't get SB rewards for every search you perform. The system does not give it to you consistently. This is what many users complain about this program. They say Swagbucks typically gives you rewards for online searches three different times per day. I have performed ten searches thus far during the past three days, and received SB only three times; the first for 20 SB, the second for 5 SB, and the third for 8 SB. The amount of SB they reward for your online search varies as well.
I know this could be frustrating. However, it's something that you would do for free anyway, so it won't hurt to try a few searches at Swagbucks instead of Google. You never know, the reward points may add up quicker than you anticipated. 
Is Swagbucks a Scam?
---
Absolutely NOT. Swagbucks is not a scam.
It is a legitimate program that lets you earn small income online without any special skills. It's easy, simple, and best of all 100% free to use. No investment required on your side, except for your time.
My Final Opinion on Swagbucks
---
Unlike tons of online scams out there, Swagbucks is one of the honest, reliable, and yet free programs that you can trust to make a few extra bucks on the side.
That being said, I wouldn't recommend Swagbucks to many for their primary source of online income, unless you have tons of time to spare. Earning rewards at Swagbucks is such a slow process, and payouts are too small.
Since I joined Swagbucks, I must have spent about an hour using their services here and there. I managed to gather 54 SB in total.
Many reviewers said earning 20 to 50 SB at Swagbucks.com per day would be realistic. Let's say daily earning averages 50 SB for you. How much would you end up making a month? It's only 1500 SB ($15).
Sure, extra $15 to our monthly income would be nice, but if I have to spend an hour every single day just to earn $15/month, I will invest my time (because I don't have much of it) for something more fruitful for my financial future.
To me, what I earn from Swagbucks.com is better than nothing but that's about it. Thankfully, they do not claim to make you rich or a millionaire, so as long as you keep a realistic expectation of this program, Swagbucks could be perfectly nifty for you.
Overall Grade:

C- (73%)
I recommend you to devote your time and energy to what help you build your financial freedom. Check out my #1 Recommendation and see how it's different from Swagbucks.
If you are a member of Swagbucks.com currently and have had a positive or negative experiences, please share with us your feedback below. I would love to hear what you've thought of this particular program. Thank you!
Yuko 🙂