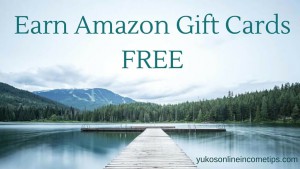 This post is an update to my original review of SwagBucks I published a month ago. My verdict stays the same. Swagbucks is not for those who aim at generating a full-time income online. However, after using the system for a month, I felt the need to share with you what I've discovered. Swagbucks actually is a great place to earn Amazon gift cards for FREE.
During the past 35 days, I have earned $10 worth at Amazon (two $5 gift cards) without doing anything additional. 
Wait, let me take it back.
I do something additional now, which I didn't have to do before I joined Swagbucks. BUT it takes only a few seconds of my day, so really I cannot call it "something additional." (I'll come back to this later)

Name: Swagbucks
Website: http://www.swagbucks.com
Price: Free to join
Owner: Josef Gorowitz, Scott Dudelson, Ron Leshem, Eron Zehavi
Overall Rank: 78 out of 100 … Good way to earn pocket money without much effort
Pros and Cons – Revised
---
So, here are the pros and cons that I originally shared with you. I basically need to revise some points in the "Cons" section. They are indicated in Bold blue.
Pros
It's 100% free.

The website is easy to navigate.

You can earn "Swag Bucks" (rewards) for things you are already doing, such as online searches or shopping.

You can redeem Swag Bucks in several ways, such as gift cards or cash via PayPal.
Cons
Very slow to build up Swag Bucks that you can cash out. –> Rather quick compared to many survey sites out there, and you can earn these "Bucks" WITHOUT TAKING SURVEYS

You don't earn Swag Bucks for every search you do.

The value of Swag Bucks fluctuates depending on the prize you redeem.

Their search engine is not as good as Google (They use Bing's search results)

Long wait to get paid (7-15 days) –> Not sure if you want to get paid via PayPal, but Amazon gift card process was quick. I received it via email within a day!
What Did I Do to Earn $10 a Month?
---
So, what did I do for the past 35 days to earn my two $5 Amazon gift cards? Honestly, I did these two things ONLY.
Daily Poll

Online Search
SwagBucks Daily Poll 
Daily Poll is a simple survey that asks you for your preference/opinion on trivial matters, such as "What is your favorite fast food restaurant?" or "What is the best Sunday paper cartoon for you?"
By the way, below is today's Daily Poll. See? It could be as simple as this one.
You can take the Daily Poll only once a day. It literally takes a few seconds to answer and by doing this, you earn 1SB every day.
Chrome Swag Button – Easiest Way to Earn Swagbucks
As I said in the original review, performing online searches thus far is the best and easiest way to receive SB. It's something that you do for free anyway, so why not do it at Swagbucks.com to receive some rewards, right?
I discovered a way to make the best out of this option. It is to install the Chrome SwagButton that opens up their search bar no matter what page you are viewing. 
As you see in the screen shot below, once installed, the SwagButton automatically appears at the upper right corner of your browser. You click on the button and perform an online search right there. It makes earnings even quicker as you don't have to log in to Swagbucks.com.
So if you already use Chrome as your main browser, install the SwagButton. You can easily complete it by clicking "Swag Button" listed under "Quick Links" at Swagbucks.com. It will make your life less complicated and time-efficient, and in fact installing this feature adds extra 50 SB to your balance. 
If you are a user of other browsers like Firefox or Safari, of course, you can still earn rewards (SB) with Swagbucks.com by using the search bar offered at their website.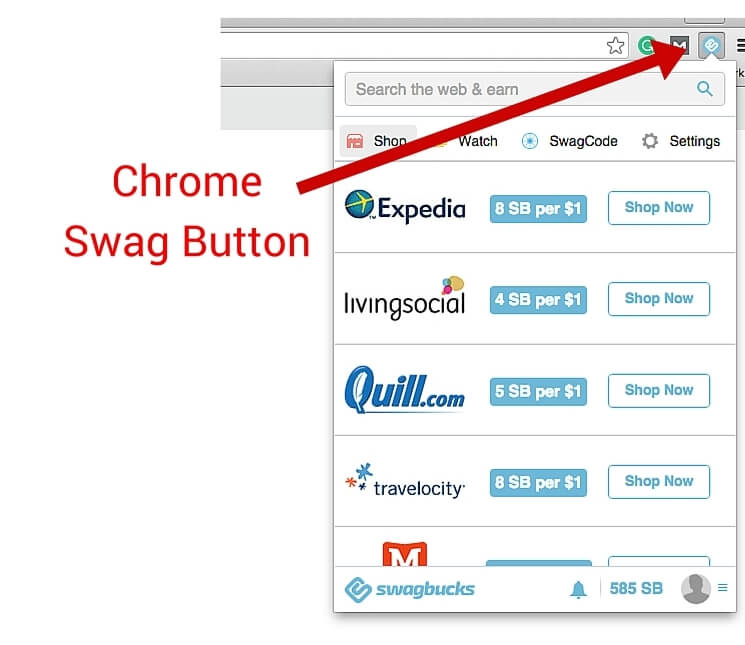 (By the way, as you can see in the image above I've already accumulated another 585 SB, so this is another $5 Amazon gift card waiting for me) 
My Routine with Swagbucks.com
---
Ok, here is what I do with Swagbucks.com every day. 
First thing in the morning, I complete Daily Poll and earn 1SB. 
Then I perform a few online searches before I go to work. A few more searches during the lunch time at work and a few in the evening.  
As I mentioned in the previous review, Swag rewards are basically hit and miss. You won't earn SB rewards for every single search you perform.
However, many users claimed that Swagbucks tends to reward you for your online searches three different times a day.
I tested this out for a month and made sure this is the truth. That's why I have separated my "SB search time" to morning, lunch time, and evening. 
So, as long as you are mindful of the time frame, you have a greater chance to earn SB via online searches. 
Below is my earning history between Jan 13 to Jan 15. The rewards vary between 4 SB to 39 SB in my experience. (I'm curious if anyone out there has the experience of receiving more than 39 SB for online searches)
In the particular example below as you can see, I performed web searches 2-4 times each day and earned 45 SB/day in average.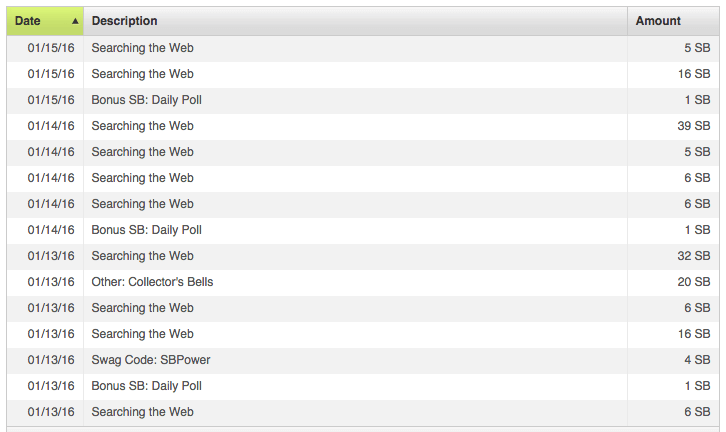 NOTE: If you do online searches just for the sake of earning SB (by typing in search terms one after another without really utilizing the search results, etc.) they catch you.
You will get a warning: "You are performing searches too fast. Please use Swagbucks search feature just like other search engines" or something like that. And the reward points you receive will be decreased to only 4 to 5 SB for a while. This happened to me and it took several days before they again began rewarding me with 15 to 30 SB. 
So, I recommend you to perform your online searches just like you do on Google. "Naturally" is the keyword here.  
Swagbucks Payment
---
I was pleasantly surprised that their payment process (as long as in terms of Amazon gift cards) was very quick!
I redeemed my first 500 SB for an Amazon $5 gift card and the very next day, I received it in my email. My gift card was available for use right away. All I had to do was to click "View My Gift Card Code" and it was automatically added to my Amazon account as credits.
With the first $10 credits I earned via Swagbucks, I purchased a new scratch pad for my cats. 🙂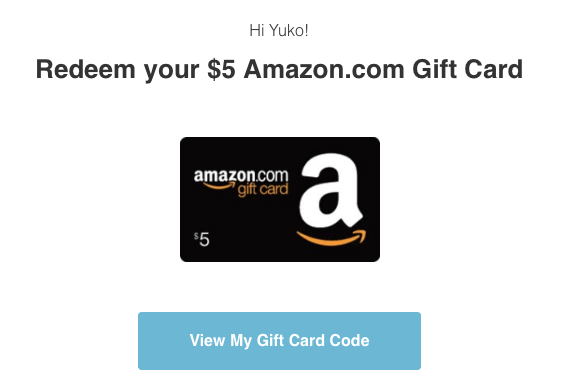 I know it's not much but it's truly nice to have some extra money added as I shop a lot at Amazon.com. 
Earn Amazon Gift Cards Free! Why Not?
---
The best part is that I didn't have to do anything special.
I didn't have to spend hours to click on ads, watching boring videos that I have no interest in, or taking surveys. All I did was spend a few seconds every morning for the Daily Poll and performed online searches as I normally do. 
It's as simple as that. 
Google doesn't pay you for using their service anyway. So you are lucky if Swagbucks rewards you for things you would do regardless, right? That's the mindset you should possess to make the best out of a site like Swagbucks. 
My Final Opinion – Revised
---
I have tried other sites like this and I can tell you honestly that Swagbucks is one site that is least time-consuming, least-stressful, and yet rewards you handsomely with decent payouts. 
It is definitely a great place to earn Amazon gift cards free without much effort on your side. 
Check out Swagbucks for yourself. After all, it is free to join. 
Overall Grade:

C+ (78%)
It's nice to be able to earn pocket money doing nothing special, but Swagbucks still cannot be a reliable source of income if you are serious about making money online. 
The downside of a site like Swagbucks is that it doesn't grow financially over time. Three years from now, you will still be making only $10-$50 a month investing your time to Swagbucks. 
On the other hand, if you invest the same amount of time and effort to build your affiliate business via your own website, your life three years from now will be very different. 
This is why, when it comes to online income tips, a website like Swagbucks does not come to the top of my recommendations. 
Imagine this: When you are 60, would you like to spend your days on a site like Swagbucks just to earn a little pocket money on the side or would you like an online business (a website) established that constantly brings you $1,000's a month (if not $10,000's) without much effort on your side?  
If your preference is the latter, then you need to start out today and learn what online income is all about.
This training I joined taught me everything I need to know about earning income online out of a blog site. It's coming along wonderfully and I began making money on the side by just blogging about what I like.
The program is called Wealthy Affiliate University. As it's free, I highly recommend you to test drive it for yourself. You won't regret it. 
While I am developing my online business that will bring me full-time passive income for many years to come, I still enjoy to earn Amazon gift cards free with Swagbucks and spoil my family or cats with the rewards I earn. 🙂
If you have any experience with Swagbucks. com, I would love to hear your stories. Feel free to leave comments below. Thanks!
Yuko