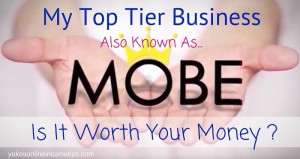 Name: My Top Tier Business (MTTB) or My Online Business Education (MOBE)
Website: http://mobe.com
Price: $49 + 19.95/month + upsells (up to $29,997)
Owner: Matt Lloyd
Overall Rank … 5 out of 100 – NOT Recommended 
What Is My Top Tier Business?
---
My Top Tier Business (MTTB) is a program developed by an Australian entrepreneur, Matt Lloyd.
You may have come across another program by Matt Lloyd, My Online Business Education (MOBE) formerly known as My Online Business Empire. They all refer to the same company.
In a nutshell, My Online Business Education (MOBE) is the affiliate section of Matt's company where you can earn 50% to 90% commissions by selling his products. My Top Tier Business (MTTB), on the other hand, is an MLM (Multi-Level-Marketing) scheme where you have to get people to join the system to earn income.
There are lots of MTTB scam reports by users. Therefore, I will mainly focus on My Top Tier Business side of Matt's program in this review.
Pros and Cons
---
Pros:
Good payouts (You can earn high commissions depending on the tier/level you are)
Cons:
No free trial

You have to buy products in order to obtain the right to sell them

Products are ridiculously high priced

All the additional costs are not explained upfront

Little to no focus on building a real business

Poor customer support

Very hard to get a refund

Many MTTB complaints on the web

Dull community

The focus of the owner is making him more money, not helping members to succeed
What Work Do I Do?
---
Typical of any MLM (Multi-Level-Program) program, your job at MTTB will be promoting their company to others and recruiting them to join the system. It is NOT about building your own online business out of your interest or passion.
If your goal is to create your online business that generates residual income for years to come, MTTB is not for you. You don't have to continue on this review. Instead, check out my #1 recommendation which teaches you everything about making income online (you can try it out for free).
Ok, let's say you don't mind working for My Top Tier Business. Here's what you'll be doing within the company.
Upon signing up, their video training awaits you. Following the 21-steps, you will be paired with a coach for a 30-day session. Your coach is going to communicate with you via phone or Skype and teach you how to get leads (prospects) to the program. He or she also makes a business plan for you based on your situation. Overall, he or she will be your mentor who instructs you to become a successful MTTB marketer.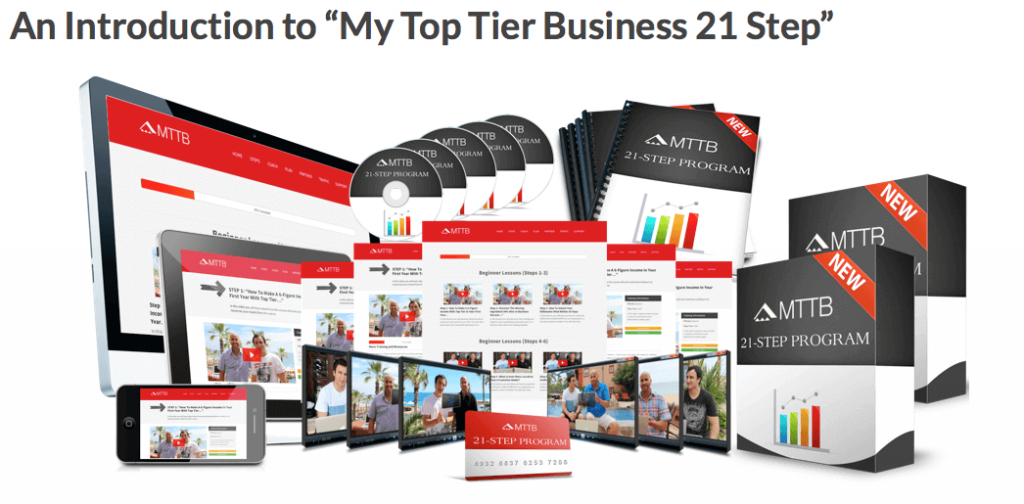 Once you finish the training, you start to send leads to the sales team at My Online Business Education (MOBE).
The MOBE sales team will do the sales to your prospects and close the deal on your behalf. They will promote and sell a variety products (the prices range from $9.95 to a few hundred dollars) and you will receive 50-90% commission.
Sounds wonderful, doesn't it? It's $49 to sign up, $19.95 every month, and you will receive all the training as well as guidance from your personal coach. All you have to do is to refer people. The rest will be taken care of by MOBE's experienced phone team and they do sales for you!
Well unfortunately, when something sounds too good to be true, it usually is.
Let's take a close look at what My Top Tier Business is all about.
Is MTTB a Scam?
---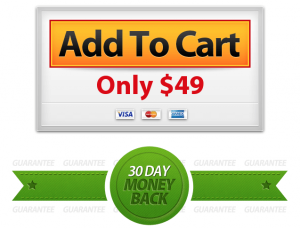 There is no free trial for My Top Tier Business. If you want to test out this program, you need to first become their affiliate member by paying $49 plus $19.95 monthly.
I know the fee is not too expensive, but this didn't sit well with me.
Think about it, you are going to work for them (promoting the company), right? I know they provide training and you may think you must pay for that. However, MTTB needs their marketers to perform well for the sake of the company's success, so it is their job to train its members, don't you think? Many companies out there provide training for its employees and they don't charge for it. Why do you have to pay MTTB the fee?
They don't teach you to build your business, they mold you into an MTTB marketer, and you pay them money…?
It didn't seem right to me but this is not why many people complain about MTTB and call it a scam.
The real reason is this.
I told you that MTTB offers a 21-step video training. As a paid member, you would naturally expect to be able to access the entire training, right? Nope, that's not the case with this company.
You cannot even complete the training with the $49 entry-level membership. When you hit video #7, your training suddenly gets blocked. You cannot continue on with the training anymore. To proceed, you are required to purchase their "license" rights.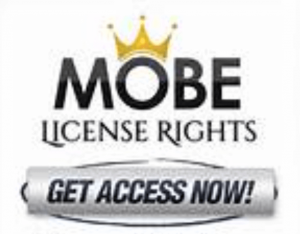 It's called "MOBE Licence Rights" and do you know how much it is? It has the ridiculous price tag of $1,997!!
Of course, this comes as a huge surprise to members. Who would expect such a thing coming up in the middle of training? MTTB completely hides this part of the deal until you are already in the system. 
At their homepage, the only phrase that hints at this hidden deal is this:
"You're only allowed to complete a few lessons at a time, and then you have to hop on Skype or the phone to chat with your coach."
I believe this is the moment your personal coach turns to an aggressive salesperson towards you. I can guarantee that he or she tries to convince you to pay $1,997 and stay with the company. And this is the reason many feel they were deceived and start viewing MTTB as a scam program.
MTTB Complaints
---
As we already discovered, the initial $49 membership is very deceiving and it doesn't even allow you to complete the training.
MTTB makes you first buy into the program with an affordable starting cost, and then gradually brainwashes you into the belief that you need to invest more to achieve quicker success. This is a typical scheme by many scam programs online.
If MTTB is confident to rationalize that $1000's investment is an absolute necessity, why not openly state it from the beginning? I find their way of doing business unethical and dishonest. Apparently, I am not the only one who feels that way as I found quite a few MTTB complaints all over the web.
One victim is this gentleman I came across at "Rip Off Report" forum. (ripoffreport.com) 
He is a senior citizen who lives off his SNN and VA disability compensation. His report was published in May 2015. It seems that this man didn't succeed to get his $1,997 back after all, although he requested a refund. He states "You never can speak with a live body" and concludes that MTTB (or MOBE) is a multi-level ponzi scam.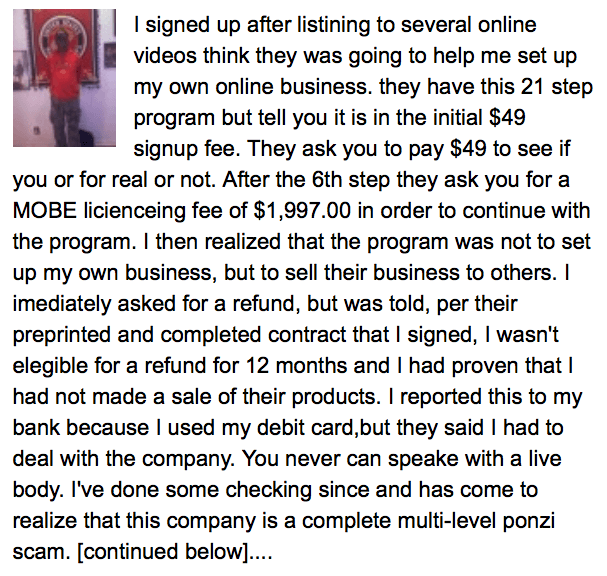 $1,997 License Fee is Not the End
---
Once you are in, you will realize that the focus of MTTB is not affiliate marketing. Affiliate marketing means you recommend tangible products or programs that may benefit others. 
That's not what you do within MTTB. There is no real educational program exists. You join MTTB, sponsor others to join under you, train them to become MTTB marketers, they recruit others into MTTB, train their downlines to recruit others, and it just goes on. 
This is why people suspect that My Top Tier Business actually is a pyramid scheme.
Sure, there are digital products you can promote and sell, but the sum of income from those sales is tiny. The high commissions of $10,000's that they brag about comes from the MOBE license fee ($1,997) and their "tier" system.
Below are the level of tiers at MTTB. To receive these high commissions, you must be a member of that particular tier. What I mean is, to receive $5,000 commission for your downline purchasing the Platinum membership, you must have already paid $14,997 and be a Platinum member yourself.  
Tier 1: Standard Membership – $49 + $19.95/month
You are an affiliate and can promote MOBE products for a commission (50% + 90%)
Tier 2: Purchase MOBE License Rights (MLR) – $1,997
Now you are allowed to recruit new members and sell them the license rights (MLR) for the commission of $1,000.
Tier 3: Titanium – $8,997 + $199/month
Your commission is $3,000 for every member signed up for Titanium
Tier 4: Platinum – $14,997 + $299/month.
Your commission is $5,000 for every member signed up for Platinum
You will literally have to spend $1000's if not $10,000's before seeing thousand dollars commissions flowing into your bank account.
I don't know about you but I don't have that kind of money to spend on the side for something I am not sure if I'll be successful. 
Is MTTB For Me? Can I Make Money?
---
Whether or not MTTB is for you is a matter of integrity, and you need to come to the conclusion for yourself. But I can tell you right now who MTTB (or MOBE) is NOT for.
MTTB is not for you if you:
do not have much experience in online marketing

wish to build your own business based on your passion/interest

do not have experience/success with MLM's in the past

do not have $1000's on the side to invest

do not wish to sacrifice your ethical values for monetary gain
Matt Lloyd claims MTTB is for anybody who wishes to make big money online. He says his system is so effective that anybody can begin making $1000's easily. This is not true.
Yet, this claim is the reason many people, particularly newbies are getting sucked into buying MTTB. WHY? Because it taps into their fear.
If you are new to the online marketing world, it is natural to feel scared at first. You don't know what to do or where to start. All you have is the dream of earning income online. You desire to make money off of the internet so that you can quit the job you hate or stay home to spend more time with your family. But you don't yet possess the skills nor the knowledge to make it happen.
Then you come across Matt's fancy claims like "$1,000's in commissions" or "our sales team does the work for you!" They are sweet to ears. I understand that.
Matt understands it too and that's exactly how he feeds into you. He emphasizes the glorious outcomes without revealing specific strategies as to how it is possible. This is a typical tactic by many online scams and it exactly indicates what My Top Tier Business is about.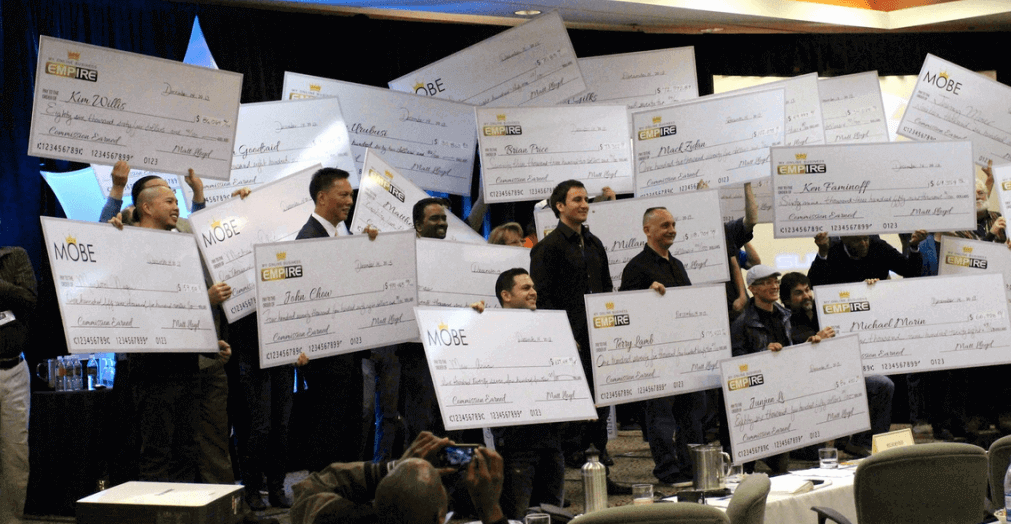 My Top Tier Business is NOT for those beginners with no marketing experience either online or offline. Please think about it for a moment. As we already know, it's an MLM (Multi-Level-Marketing) scheme where you need to generate leads into MTTB (or MOBE) and make them purchase the license rights as well as the higher tier memberships.
Who are you going to recommend those outrageously high-priced products? Your friends? Family members? People at work?
Are you going to send out emails to all the people on your email list about this "great opportunity"?
You may think you only need to refer a few people to break even and make a profit. You may think it wouldn't be so hard to gain two or three referrals.
No, MLM is not that easy. I can speak from experience because I was once involved in an MLM company and barely managed to sponsor a few people.
Unlike MTTB, the company I joined sells tangible products that benefit people with health issues. It was something that they could hold in their hands and try for themselves. The price was nothing compared to MTTB's price tags.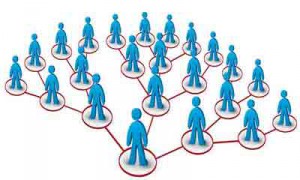 Nonetheless, it was so tough to have people join the company. Do you know why? Because people hold a very negative image towards MLM companies.
Due to all the pyramid and ponzi scams that have tricked and messed with people, the MLM system has been labeled with a red flag of "scam." Your family and friends will try to stay away from MTTB (or from you) once they realize it's an MLM company. I am no expert on marketing and I assume you may not be as well. 
In that case, looking at those price tags at MTTB, you will be extremely lucky if you could get even ONE person into the program.
I hope you've begun realizing that earning high commissions with this company is not as easy as Matt claims.
I Am Good at Sales. Can I Make Money Then?
---
People who may possibly make good money out of this program are those who are experienced in online marketing. If you already have a huge pool of followers or clients, who completely trust you and listen to your recommendations, then it is possible that you can quickly build downlines (people sign-up under you) and earn commissions from those referrals.
But here another question arises.
Is MTTB something that you would be proud of promoting? Would you feel comfortable referring those people who trust you to this company?
Remember the gentleman who lost his $1,997? He was someone who lives on his SSN. I am personally very curious how Matt Lloyd feels about those people. I wonder if he sleeps ok at night.
Matt says when he first started out in 2008 he knew nothing about online marketing and was working out of his bedroom.

Now his company is a multi-million dollar company. I wonder if he lives every single day with true happiness. I wonder if he wakes up every morning with joy when his company is taking hard-earned money from people like the gentleman mentioned above.
Is MTTB a right place for you to earn income? This comes down to the question of integrity.
Bear in mind that those people who you invite to MTTB will go through the exact same things that you go through. Would you feel ok about it? Can you recommend MOBE to anyone with pride and confidence?
You really have to ask yourself this question: "Is making $10,000's at the expense of other people is what I want to do?"
My Final Opinion of My Top Tier Business
---
I hope this post helped you understand what is My Top Tier Business about. Apparently, MTTB is not for those who want to build their online businesses based on their passions that bring joy and passive income for years to come.
It is a program for those who are willing to be involved in an MLM scheme and do not mind taking other people's money for the sake of their own monetary gain.
The entry level membership is affordable ($49), but it doesn't get you anywhere as it doesn't even let you complete the training you need to start working as an MTTB affiliate.
You need to upgrade to upper tiers if you wish to receive high commissions.
Once you let yourself sink deeply, you cannot avoid but spend $10,000s with this company. You will be responsible for those who joined under you and start taking them down the same path.
This is far from earning honest money online… I don't know how you feel about it but to me personally, it's not worth it whatsoever to sacrifice my conscience or dignity. 
Real legitimate programs focus on helping people, not taking money from them. 
I don't want to be rich by living off of other's struggles. There are legit ways to earn income on the internet and I would rather invest my time and efforts to acquire those skills as they will be my lifetime asset. 
Final Grade:

 
F (5%)  … Stay Away 
Have you had an experience with MTTB or MOBE? Share your experience or thoughts on this company below in the comment area.
An honest program does not ask you to pay $1,000's for the training.
They let you test drive

for free

.
Yuko