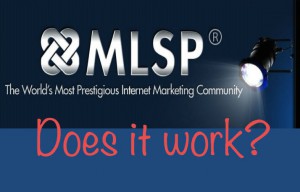 Is My Lead System Pro a scam? Can I make money with it?
I will answer to the question in a minute. Please read on.
Here is my background with this program.
I joined My Lead System Pro in April 2015 and was a member for just a short time. 
Back then I was a complete beginner who knew nothing about online marketing. I signed up for the plan called "My Lead System Pro Academy Membership: $19.97/month" that is no longer available as I am writing this review in September 2015.
To make a long story short, I didn't stay with My Lead System Pro. I simply couldn't make much sense of the program as a newbie.
They provide tons of tools in their system, but it was not well organized and to me personally, it was overwhelming rather than informative and helpful. Without step-by-step instructions, I couldn't figure out where to start.
I remember I used to feel bad about myself for not comprehending what they were trying to teach me… But after leaving My Lead System Pro, I found a real beginner-friendly program. 
It taught me from scratch how to build a successful business online, and as a result, I did start earning income online. It really worked this time!
Then I realized that it was not because of me being dumb or anything that I was not successful with My Lead System Pro. It was their system that made it hard for me to be successful. Thanks to Wealthy Affiliate University I joined after MLSP, I have gained a better understanding what online marketing is all about.
So today, I want to take a close look at My Lead System Pro once again and share my honest opinions with you based on my personal experience.
Name: My Lead System Pro (MLSP)
Website: www.mlmleadsystempro.com
Price: Ranges from MLSP University $49.97/month, MLSP Mastery $149.97/month
Owner: Norbert Orlewicz, President and Cofounder
Todd Schlomer, CEO and Cofounder Brian Fanale
Overall Rank: 53 out of 100 … Not Recommended
What is My Lead System Pro All About? – Product Review
---
My Lead System Pro (formerly known as MLM Lead System Pro) is an online training platform that teaches online marketers, especially those who are involved in Multi Level Marketing (MLM), to build and grow their business.
It was founded by Brian Fanale, Norbert Orlewicz and Todd Scholmer in 2008. The founders like to call their system "Academy" because it provides many classrooms and tools about ins and outs of online marketing.
The core concept of MLSP (My Lead System Pro) is so called an "attraction marketing."
What is attraction marketing? In their definition, it is a method that attracts and drives your potential customers to come to you, instead of you having to chase after them. You don't pester your friends and family to join your MLM business because they will naturally come to you. Sounds perfect, doesn't it?
As a newbie, I too thought it would be great if a system can help me get started online so easily. Even now I do not deny the idea of attraction marketing. 
The problem, however, is that MLSP doesn't teach you how to acquire this skill. Of course, I didn't learn it either while I was with MLSP, so to this day, I still have no idea how the attraction marketing technique works.
I also remember they emphasized too much on "quick" success. Now I have learned that it is the sign of a not-so-reliable program. They claim their system generates lots of leads quickly and even newcomers start seeing results right away. That is not true.
In the real world, in any new profession that we attempt, success takes proper instruction and lots of hard work. It does take time and perseverance. It is the same with the online world.
But MLSP makes it sound so easy to achieve success and misleads us into thinking new leads and cash will start flowing to us. Instead, they should state the ultimate truth that it does take long hours of work and patience, and help their members start out with the right mindset.
Tools & Training
---
Within MLSP you get access to tons of training videos or other tools about marketing strategies. The recorded webinars are also available and they talk about how to utilize different Social Medias (Twitter, Facebook, Instagram), how to set up a website, what SEO is, and so on. 
I watched many of these videos while I was a member. They were all quite long (average 1 hour and 30 min). We are all busy and I suspect if people would have the time to go through all these long videos.
Even though I sat through all of them, I usually didn't benefit from even half of the content. Typically, a video starts with a chat between the host (mostly Brian Fanale) and the presenter (a successful member). They would chat about how well the presenter is doing now and how he or she used to struggle before joining MLSP. That kind of thing. Basically, they first focus on their success stories.
And then the presenter finally launches on the topic. I would say perhaps 20-30 minutes of each video was related to what I had anticipated learning from the presentation.
Even after sitting through the entire training, I would often find myself without a clue as to where to start and how to make the technique work for my business. The videos are not newbie-friendly whatsoever. They don't guide you through in the manner that you can easily follow and comprehend.
I am a college language instructor in my full-time profession. (Refer to About Me) I guide my students from zero knowledge to the level that they can express themselves in a foreign language.
When you are attempting to instruct complete beginners, it is indispensable to understand what they don't understand. You must focus on your learner's perspective if you want to help them.
In my opinion, My Lead System Pro failed to view their members in this respect. They do not know how to smooth out the learning process for the members and only highlight the ending results.
But we are paying our money to learn the very process, not to hear other people's success stories, right? MLSP needs to shift their focus to better training if they truly want to help their members.
Who Is My Lead System Pro For?
---
First of all, MLSP is designed to help promote a Multi-Level Marketing (MLM) so you must already be part of an MLM company or at least intend to generate income through the business model.
In other words, if you are not into MLM business model, this program is not for you. Even if you don't mind MLM, but don't have a product (company) to promote yet, then you will have to promote My Lead System Pro to other MLM marketers out there.
Secondly, their strategies might work if you are already generating lots of traffic to your website or have many followers on social medias.
MLSP claims that they generate leads for you, but it is only possible with sufficient traffic already in place. Then (and only then) their marketing strategies may work to convert your traffic to leads, and the leads to buyers. So, MLSP is NOT for you if you don't know how to drive traffic online because they don't teach you how.
The current program I am with (Wealthy Affiliate) is the program that understands what their members don't understand and tries to help them. It's the vital element of a helpful teacher (program) as I stated above.
It was with this program that I finally learned about online traffic and how to build it from scratch. It is a long process that requires effort, time, and perseverance on your side. Any successful online entrepreneur out there went through this tiring process. In fact, they are successful today because they didn't give up during this daunting phase of building traffic.
I was not aware of this important truth when I was with MLSP because they didn't tell me anything about traffic or the patience it takes to build it from scratch. Or perhaps, I didn't have access to the information because I was on the cheapest plan due to my tight budget.
Either way, you need the right resource and well-structured courses to master online traffic and unfortunately, MLSP is not the place.
Support – Are They Serious About YOUR Success?
---
The MLSP community has people with a wide range of backgrounds, from newcomers to successful business owners. Newbies can interact with experienced marketers, which is a plus.
However, the person I signed up through (my sponsor) never contacted me while I was a member. Looking back, I still find it odd. I remember I accidentally found him on YouTube. I began receiving his newsletters via email and then, I was directed to the MLSP sign-up page. After signing up, they urge us to call our sponsors but I didn't feel comfortable to call up someone who is a total stranger.
There is a private Facebook group where you can connect with people from MLSP and ask questions, but I never joined. 
Again, I find it very strange that they do not offer us members a way to interact with each other inside the system. In short, I never received any personal support and that is one of the reasons why I left MLSP.
At Wealthy Affiliate, on the very first day within the system, my sponsor contacted me and greeted me. He told me not to hesitate to directly message him if I have any questions or concerns (there is a private message system in the program). He still checks on me occasionally, asking how I am doing and if I need any help. I have felt so supported all the way. It did make a world of difference for a newbie like me.
Now I can tell you this with confidence. Support is a "must" for your online success.
When you are not sure which program to join, check their support system first. That tells you so much about the quality of the program itself.
Can you personally connect with experienced marketers? Can you receive help 24/7 through a system like online chat? How quick are they to respond to your inquiry? Even better, can you directly contact the owner of the program?
If the owner is active helping out his/her members, the program is definitely the place to stay.
Price
---
MLSP currently has two payment plans: University $49.97/month and Mastery $149.97/month. 
As I stated earlier, I joined several months ago with a lot cheaper plan called Academy $19.97/month. Apparently, they eliminated that option.
I wonder why they did that. It makes it even harder to join for those with a tight budget. Many people who seek a way to make money online do not have much money to invest in the beginning.
The University ($49.97) plan is very basic and only gives you a general idea as to what to expect from the "full" product.
That's right. Even with $49.97 a month you are NOT going to get full access to all the features of the program! MLSP clearly states that you have to sign up for the Mastery $149.97/month membership for the program to truly work for you. In my opinion, it is way too much to invest for beginners who are just starting out online.
These Things Turned Me Off…
---
If you signed up for a cheaper plan, they would try very hard to convince you to upgrade.
As soon as you join, you will be introduced to even more products that you should purchase.
Many

trainings

teach the strategies that are impossible for you to implement without spending additional money.
They emphasize on success stories too much. They would spotlight those members who "made 10 leads overnight" or "made XYZ amount of money in one month" for example. It all sounds like "hype" to me. What I wanted to learn was "how" exactly I can achieve the same outcomes, which was never shared.
MLSP system itself has the MLM scheme and it relies on the members to sponsor new people in order for the program to stay alive. A member will receive 100% commission for one sign-up he or she generates. It sounds wonderful but to

me

it sounds like an illegal Pyramid Scheme practice.
They say, "Act fast because this special offer does not last forever" at their sign-up page. A typical sign of a scam program… a big red flag for me.
Pros vs. Cons
---
Pros:
It has a community of like-minded people with various backgrounds so that members can learn from one another

Some videos are educational and helpful

There are many free webinars that you can attend weekly

There are Contests to keep members motivated
Cons:
You don't get to try the entire program free before you make a decision

Program is way overpriced

Constant upsells

Too much focus on hype

Too many complaints found online

Requires more money to invest in order to progress within the program

You need to have products or services to market, or you must promote MLSP to earn money

Possibility it is an illegal practice as a Pyramid Scheme

Numerous marketing strategies that overwhelm newbies. No guidance or support as to how to figure out what method works for each individual.
My Final Opinion on My Lead System Pro
---
In spite of its claim, not many people are making actual income with My Lead System Pro. 
After all, it is an MLM system. Apparently, those who are making money are already at the top of the pyramid.
I doubt how serious those top earners are to support their downlines (people signed up under them). As I stated, my sponsor never contacted me.
For the quality of service it provides, the membership fee of MLSP is way overpriced. Then it comes with upsells as well as additional purchases to proceed in the program.
In my opinion, this product is not worth your hard-earned money. It simply is not a learner-oriented program. See the comparison below and you'll know what I mean.
I am sorry to conclude that My Lead System Pro does not help you build the strong foundation of your online business. 🙁 I would say to stay away from the program, unless you are an experienced MLM marketer and feel comfortable promoting this type of business model.
Overall Grade:

F (53%)
If interested, you can read more about Wealthy Affiliate and my experience there.
If you enjoyed this article, please "like" and "share" so that other newbies won't fall for this program. If you have any questions or want to share your personal experience with My Lead System Pro, please leave them below. I would love your feedback. Thanks!
Tired of low-quality, dishonest products like My Lead System Pro?
See for yourself what a real legit program looks like.
And Yes, you can try it for free. 🙂
Yuko