What is a keyword tool? Before answering the question, I need to make sure that you understand what "keyword" is.
Keyword? What is a keyword?
A keyword is a word or phrase that is the main theme of an article that you create for your website. Look at the title of this article; "What Is a Keyword Tool?" It is what I am going to talk about and hence, the "keyword" of this article.
Finding a good keyword is fundamental for your ranking in search engines such as Google.
Your article needs readers, right? Where are those readers? They are online searching for information or solutions. As an online entrepreneur, you have to write to help those people.
How can you help them if you don't know what information they need? People would perform a search under phrases such as "how to heal a headache quickly," "best sushi restaurant in Portland," or "making money online scams." Those are all keywords and tell you what information people are looking for online.
Understanding a keyword, you can write to provide valuable information for your readers.
What is a "Keyword Tool" Then?
---
Well, the name is quite self-explanatory but it is a tool that helps you to choose the most "effective" keyword for your articles.
As you start out with your business online, you will need to write lots of articles or blog posts for your website. We call them "contents."
Contents are the core part of your online success because that's what attracts your visitors (customers). People would come visit your website because they find valuable information on your website.
But first and foremost, they need to know that your website exists, right? Here, a keyword comes into play.
People would discover your website when they perform an online search under the keyword you have written a content for. Therefore, a "good" content has two elements.
It provides valuable information in-depth.

It has a right keyword in its title, and a few places within the content.
And a keyword tool gives you the data, such as search volume, to help you select a right keyword for your content.
Select the Best Keyword For Your Website
---
Before we get into the keyword tool discussion, let's talk about content strategy.
First, you must brainstorm as to what your content is going to be about. Ask yourself "What phrase would best describe my content?" "When people search this query, what information are they looking for?" Then, write down any phrases that come into your mind.
I will give you an example. Let's say your website is all about beauty tips for women. Today you want to write a blog post about facial wrinkles and how to reduce them.
You think to yourself, "What phrase would best describe my blog about reducing wrinkles?"

Words have synonyms. There is more than one way to say the same thing. So, the title (keyword) of your post could be anything like:
– How to Reduce Wrinkles
– Reducing Wrinkles
– Tips to reduce wrinkles
Which one do you think will best resonate with your target readers? Should you choose the one that sounds right to you? 
No, of course not. 
You have to figure out which one works best for your website based on certain data. But at the moment, let's not worry about the effectiveness of each keyword. We are still gathering candidates. Just jot down all the phrases come to your mind.
Later on in this article, I explain how a keyword tool helps you select the best one for your content. Let's keep on with a bit more research.
What Do People Search Online? Ask "Google Instant"
---
Now, let's see what phrases people actually use to search within your topic, "reducing wrinkles."
You can go to the Google search bar to find out. Google now has implemented in its search engine a new function called Google Instant (or, Google Suggest).
What is Google Instant? Well, have you noticed that the Google search bar gives you the drop-down phrases related to what you just typed in? Those are real-time keywords that people are actually searching for. 
This new feature of displaying them instantly is called Google Instant.
As an experiment, I typed the phrase "how to reduce wrinkles" and below you can see what Google Instant gave me.
The drop-down listed three more phrases, such as "how to reduce wrinkles on neck" and "how to reduce wrinkles around eyes." They are actual phrases that people have used.
Generally speaking, the more specific the keyword is, the less competition you will have. Hence, a better ranking for the keyword. You want to bear this in mind especially while your website is still quite new.
So, if you have a good knowledge to write on a more specific topic, it's better to do so.  
In this particular case, you will have less competition if you write about how to reduce wrinkles on neck or forehead (specific parts of the body) rather than reducing wrinkles in general (boo broad). 
OK, I added more candidates to our keyword list. I found all those additions (in red) via Google Instant.
– How to Reduce Wrinkles
– How to Reduce Wrinkles on neck
– How to Reduce Wrinkles on forehead
– How to Reduce Wrinkles around eyes
– Reducing Wrinkles
– Reducing Eye Wrinkles
– Reducing Eye Wrinkles Naturally
– Reducing Neck Wrinkles
– Tips to reduce wrinkles
– Tips to reduce wrinkles on your face
– Tips to reduce wrinkles on forehead
Two Important Factors of Keyword
---
It's time to select the best one!
We currently have 11 possible keyword phrases… Which one do you think most effective and get better rankings on Google search? We want a good ranking so that people would find our article easily and come visit soon!
At this stage you need to look into two aspects of each keyword: Search Volume and Competition. 
Search volume is the average number of people per month, who is searching for that particular keyword.
Competition means the number of websites out there that have contents (article/blog posts) for the keyword.
Ideally, a keyword with a high search volume and low competition is the best. But things are not that convenient as you can easily guess…
The keywords with higher search volume naturally are in proportion to more competing websites. Therefore, what we want to aim here is a keyword with a decent search volume (more than 100) and relatively low competition (less than 300). We call such keywords "Low Hanging Fruit" keyword.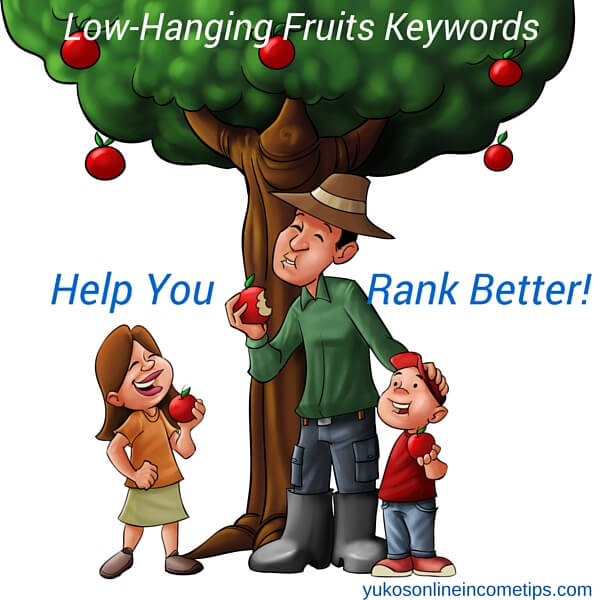 Imagine a fruit tree. Those fruits hanging low on the tree are typically smaller (less desirable, thus less competitive). But there are more of them and easier to catch compared to the bigger fruits on the top part of the tree (more popular, thus more competitive). 
Our goal is to find those "Low Hanging Fruit" keywords. The ones with decent traffic and less competition, and you need a reliable tool to find them. 
Pick the Best One! Jaaxy Helps You
---
Ok, now we are on the main topic of this article: "What is a Keyword tool and how does it work?"
A good keyword tool tells you instantly the two fundamental elements of keyword selection: the search volume and competition. The data is crucial for you to select the most effective keyword for your content.
I have tried a few different tools but this is the best one:  Jaaxy. It has been saving me hours on keyword research and helped my contents rank quickly. With Jaaxy, I can instantly gain all the necessary data, and it is just so fun to use!
Let me show you how it works with the example of "reducing wrinkles."
Again, our goal is to find an extremely targeted keyword related to the topic with a decent search volume and low competition, aka "Low Hanging Fruit" keyword.
At Jaaxy, you simply type the phrase in the search bar and click "Find Keywords."
I typed in "reducing wrinkles" and see what I got below.
Remember "Low Hanging Fruit" keywords? Decent search volume and less competition are what we want.
Let's spot them in the results below. At Jaaxy, the search volume is indicated as Avg (Average Monthly Searches) and competition is as QSR (Quoted Search Results).
Low Hanging Fruit Keywords satisfy:
Avg = Search Volum 

more than

100

.
QSR = Competition 

less than

300

. (I usually aim at less than 200)
Take a look at the result for "reducing wrinkles."
Avg is 128, which is more than 100 and good search volume, but QSR is 332… It means too many competing contents exist out there. We need to give up on this keyword. 🙁
This one search also provided us the data for another phrase we already had on our list "how to reduce wrinkles around eyes."
Avg is 110 and QSR is 15. A decent search volume and very small competition! Great! We want to keep this one as one of our finalists. 🙂
Let's try another one. How about "Tips to reduce wrinkles on forehead"?
Hmm…. the result shows the phrase has too small of a Search Volume. "Avg <10" means less than 10 searches per month. It's simply not enough to bring traffic to our article post. We need to give up on this one as well.
Unexpectedly, there I found a similar phrase "How to reduce wrinkles on forehead" that has much more promising data. (Avg: 144, QSR: 60)
"Tips to reduce wrinkles on forehead" and "How to reduce wrinkles on forehead" practically mean the same thing, right? However, Jaaxy clearly showed us that, as a keyword (title), the latter is way more effective.
However, Jaaxy clearly shows us that, as a keyword, the latter is way more effective.
The colors you see under KQI (Keyword Quality Index) corresponds with the traffic lights. Green (good to go), yellow (caution) and red (don't go). It helps you to visually identify good keywords right away. I always aim at the green light and it has been working wonderfully for my rankings.
There are other valuable features on Jaaxy, which I covered in the full review.
Want To Try Jaaxy For Yourself?
Type in any keywords in the bar below and see what happens. Jaxxy is free to try out. It actually comes with 30 free searches for a starter!

As far as I know, Jaaxy is the quickest, easiest and most powerful keyword tool existing.
And it is an online tool. You don't need to download anything. It is accessible from any of your devices, as long as you are connected to the Internet. With Jaaxy, you can perform a keyword research even on your iPhone!
How Much Does Jaaxy Cost?
---
Jaaxy Starter – FREE.
It comes with 30 free keyword searches, along with other features that it has to offer. You can try Jaaxy for yourself before paying any money.
Jaaxy Pro – $19/ month (or $199 per year).
It comes with UNLIMITED SEARCHES for your keywords. It is also 2x faster than the Starter membership and offers a few tutorial videos when you sign up for Pro. If you are just starting out with one or a few websites, this is more than enough to assist you with keyword searches and SEO.
Jaaxy Enterprise – $49/ month (or $499 per year).
This is the most powerful keyword tool that you can ever find. It is even 10x faster in everything than Starter and Pro. You will eventually need this version as you become an online business expert running multiple websites.
Endless List of New Content Ideas!
---
I hope now you've got the idea of what is a keyword tool and how it helps you with content writing.
A keyword tool like Jaaxy can give you dozens of possible keywords for your new contents. It is vital for your content rankings in the search engines and overall success of your website.
Here is a tip from me as you continue on as a website owner. If you find a perfect "Low Hanging Fruit" keyword but it doesn't specifically describe the topic of the content you are about to write, take note of it for another content. Do not alter the current content for the keyword.
You can write a separate article to work with that particular keyword phrase. You may be surprised to find yourself endlessly finding new topics for a new blog, every time you do a keyword search on Jaaxy.
Lastly, I want to emphasize that we are writing for actual people and not for the search engines. Let's not forget that.
This is why I said not to use a keyword that does not exactly describe your content, even if it possesses a very promising data. 
You need to offer a value to your readers. Your online success heavily depends on gaining their trusts. Always ask yourself "what do my readers want? If they find my website, would they find it helpful?"
I hope you enjoyed this article. Do leave any questions or comments below. If you have found a good keyword tool other than Jaaxy, please share with us. I would love to know!
Yuko 🙂