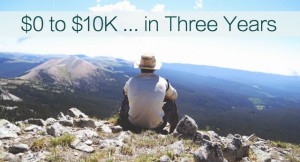 I will give you the straight answer now.
"Does making money online really work?" – YES
You need to understand that there are many layers to online success. If you are interested in making money online, you must have already searched the opportunities before you came across my site. You must have encountered all those fancy lines such as "Easy money online!" or "get quick bucks!" haven't you?
They are tempting, aren't they? Do you think they are truthful? You don't have to answer my questions but let me answer the questions you must have instead. As searching for opportunities of online income, these lines must be circling in your head.
Does making money online really work? – YES
Can anybody do it? – YES
Is it quick and easy to make money online? – If you are a beginner, NO.
The answer to the last question may have disappointed you. Especially if you are in need of money immediately, you must have lost your interest here.
Sure, you may make a few bucks right now by participating in something like an online survey. If you don't mind investing a few hours here and there, you may even make $20 or $30. And if that's the kind of money you are after, go for it. Earning money online is similar to earning money offline. If it is easy to do, the payoff will be small as well.
It Can Produce a Full-time Income
---
The kind of money I am talking about here is full-time income. You launch your own online business (website) that creates streaming income for many years to come.
Think about this, the internet appeared only two decades ago.
Just 20 years ago who thought we would read papers online, watch videos online, seek information online, and do most of our shopping online? We are yet at the very beginning of this digital world development. How do you think things will be 20 years from now…?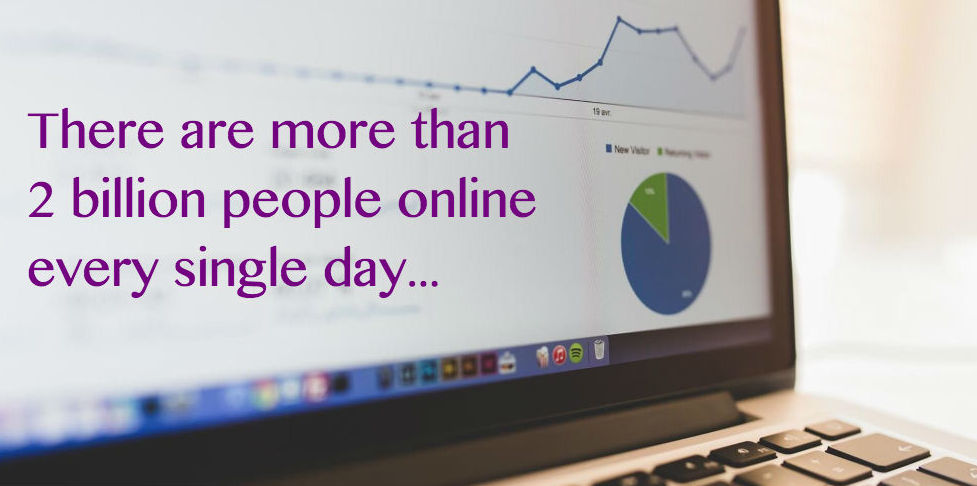 Without a doubt, the online world will be the place where your financial opportunities lie.
Of course, financial success won't happen overnight. There is no such thing as you launching a new online business today and starting to earn $2000+ next month. If any program or anybody ever promises you that, bear in mind that it most likely is a scam.
All of us wish that "get rich quick" schemes are a real deal online. But I need to be honest with you, it is not.
Remember I said business on the internet is the same as a business in the real world. No easy money without hard work and dedication. Many people choose to ignore this common fact and easily fall for those scams that try to rip them off. Sadly, there are more and more scams online than legitimate programs that truly educate you as an online entrepreneur. If you are just starting out online, keep this in mind and beware of those scams.
So, is making money online unrealistic? Should you entirely give up on the idea to begin with?
NO, not at all.
Live Off Your Website
---
Now, imagine this.
You worked really hard to build your website for three years. You established an authority site and it started attracting tons of visitors. As a result, your website began producing a monthly income of $7,000, $8,000 or even more. How do you feel about this? At this point, you can practically live off your website.
Is this possible?
Totally.
And that is not the end. Your website will continue growing even after that and keep producing more revenue.
If one website can become such a strong source of income, is three-years of hard work worth it for you?
If your answer is YES, read on.
Earning $10K a month – Dom's Story
---
Today I want to share with you a real story of a real man, whom I met at Wealthy Affiliate University. His name is Dom.
He was someone who knew nothing about online business three years ago. Wishing for financial freedom through online income, Dom joined Wealthy Affiliate University to learn how to go about it. Recently, in his blog within the program, he shared with us his story as to how he began making $10K/month.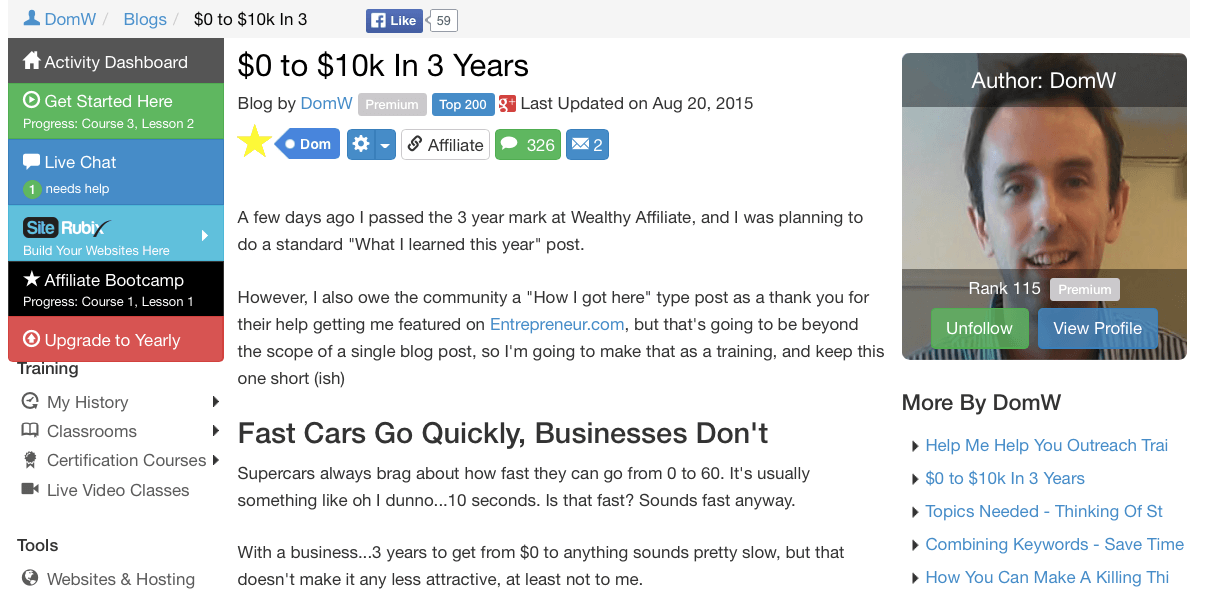 Here is his story:
In August 2012, Dom joined Wealthy Affiliate hoping to learn how to make real income online. As I said, he was a complete beginner.
He started taking lessons at Wealthy Affiliate. He networked with other members, received help and support when needed, and launched his own website called "HumanProofDesigns.com"
Here is his website.

I know what you are thinking. His website looks fantastic and totally professional, doesn't it? No wonder he now makes $10K a month. But you have to understand that his website didn't look like this from Day 1. What you see today is what Dom has built over time through constant efforts and perseverance.
In fact, he mentioned in the blog that not much happened during the first three months. But he didn't give up. He kept writing content (articles) on his website and tried to provide helpful information for his visitors who are also seeking ways to earn income online.
At First, It Was Only $50
---
Dom's first income finally came three months after he launched the website. It was only $50 in January 2013.
Another $50 came in February. $100 in March and $120 in April. Gradually, the revenue that he receives from the website increased. It was not a steep curve but steady increase. He ended 2013 by making $750 in December.
In 2014, his battle continued.
Dom kept adding more high-quality content to his website. He also began utilizing other techniques as he got educated at Wealthy Affiliate and became more competent as an online marketer. He had his first $1000+ month in May 2014. In November, it expanded as much as $2700, but then it suddenly dropped to $1500 in December. He said he was very disappointed as he had aimed at reaching $3000/month by the end of 2014.
But, things were just about to take off…
Surprisingly, Dom's 2015 started off with $4500 in January. And it is from this point that his income began showing a steep curve. His monthly revenue kept climbing up to $6500, $8500 and finally surpassed $10,000 in July!
It was roughly 3 years since he joined Wealthy Affiliate University.
Dom's exact words:
"As you learn more and go through the stages, stuff gets a lot easier, and when it clicks for you (and it WILL), boy does it click."
This is Dom's success story, and I shared a brief summary of it. If you want to read his entire blog, click here. [AL]
There he gives a breakdown of his monthly income since January 2013, and you can see the growth of his website in actual numbers for each month. He also shares in more detail how he felt at each stage of his journey. It truly is inspirational to see that his hard work did pay off in such a big way!
If He Could Do It, Why Not You?
---
I believe you are already a very hard working person who is devoting every single day to your current job. Many of us have lived our lives working hard, which I believe is something that we all should be proud of. But think about this for a moment. If you keep working hard at your current job, is it going to double or triple your income three years from now? Is it going to happen if you work your butt off?
Very unlikely, isn't it?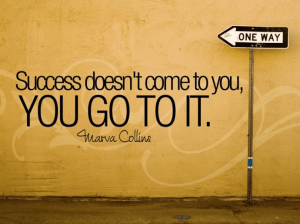 If there is one skill that will support you financially for many years to come, even after your retirement, it will be online marketing.
As I said, the internet is not going anywhere. Currently, there are more than 2 billion people converging online every single day. It literally is the biggest marketplace on earth, and it is growing faster than ever with all the mobile online devices appearing in our lives.
The possibility is unlimited.
Making money online does really work. And anybody can do it. But not everyone achieves the tremendous success as Dom did. Why not? Because people don't continue. They give up in the middle. If there is one critical ingredient to your success, it will be perseverance. A huge amount of perseverance, as there are no short-cuts to online success.
Dom said, "I am not a genius, I just didn't give up."
He also said, "Three years is nothing in exchange for financial freedom."
Just like Dom, you will be a novice in the beginning. You will feel confused, frustrated and lost at times. But everyone will be a novice at any new profession, right? So feeling lost at times is perfectly natural. Don't let it discourage you.
You Don't Need To Struggle All By Yourself
---
Your website does not have to start out perfect. You will learn how to improve it over time. And you don't even have to do all the learning by yourself either.
Dom, I and many people are getting the proper instructions and support at Wealthy Affiliate. You can try out the program for free. Read my full review as to how Wealthy Affiliate University works and what you can get from the program.
Does making money online really work?
Yes, definitely.

After reading about Dom's journey, now you must have a better understanding of online business and what to expect on the way. It may not be easy in the beginning, but you will achieve success as he did, as long as you are determined to work hard at it and never give up.
Do you want to stop working for others? Do you wish for financial independence? Do you wish to send your children to college as a single parent? Do you want to provide better for your family or do you hope to live worry-free of money even after retirement?
If your answer to any of the questions above is YES, then let's get started  today.
I hope this post was helpful for you to get motivated to shift your financial future. I always felt that life could be unfair that most hard working people are the ones who are suffering the most in the society. But the internet can completely shift these social dynamics that lasted in our world for centuries.
If you have any concerns or comments, please feel free to leave them below. I would love to hear your thoughts. 🙂
Yuko