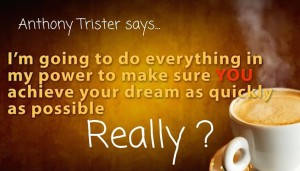 This review will be more of a list of my Coffee Shop Millionaire complaints as I experienced such a hassle just to get to the product. It literally took me 12 hours!
If you are considering trying Coffee Shop Millionaire for yourself, expect a similar experience. In the later part of this review, I will share how I got a refund, but my hope is that this article helps you see what Coffee Shop Millionaire is all about and will prevent you from wasting your precious time and money.
Name: Coffee Shop Millionaire
Website: www.coffeeshopmillionaire.com & www.thecoffeeshopmillionaire.com
Price: $37 (many upsells)
Owner: Anthony Trister
Overall Rank: 35 out of 100
Product Overview
---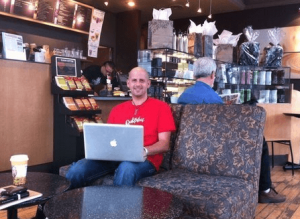 Coffee Shop Millionaire (CSM) is an online training program launched by Anthony Trister. He claims he teaches all the techniques for you to make money online in this program.
Why the coffee shop in the name? Well, that's the image of a successful internet marketer that Anthony showcases, sitting in your favorite coffee shop, working on your laptop and the money will keep flowing in. I prefer to work in my own room, so this pretty image does not have much appeal to me but that's not the point. The point is whether or not Coffee Shop Millionaire really makes you a millionaire. Let's take a look at it.
Pros and Cons
---
Pros
It provides the basic internet marketing resources for just $37

Some of their outsource recommendations are useful
Cons
Cannot try free

Deficiency in the sign-up process (where is my product???)

Upsells after upsells thrown at you

Information is outdated (last updated in 2012)

Poor quality of the video lessons – They don't guide you through each step of how to start making money online

Deficiency in the program – Many videos do not play

The website they claim to build for you does not exist

Heavy focus on Local Marketing – Not beginner friendly

No training by the owner – All the training is done by other coffee shop millionaires

No support from the owner

No community interaction or support among members

Lots of complaints from consumers on the web (and I am about to add another…)
Who is Coffee Shop Millionaire For?
---
The focus of this program is on local marketing. What is local marketing? It means that you sell local business owners services such as building their website, bring traffic to their website, blogging for them, put online ads for them, or do the social media marketing for them, etc.
In short, if you are totally new to online marketing, Coffee Shop Millionaire is NOT for you. They claim you can start out by outsourcing the services you sell. No, you can't. How can you outsource if you have no idea what you are doing or how to do those things for yourself? You need some experience doing online marketing before attempting local marketing.
Even if you are an experienced online marketer who is into local marketing, the training this program provides is too vague and does not give you all the pieces to make it work. It will not help you grow your business.
The hardest part of local marketing is selling your service to local businesses. Yes, you have to do sales. It means you have to call, send emails or physical mails to local businesses and obtain a client, first and foremost. If you have no clients, you will make no money. Are you good at sales? Coffee Shop Millionaire does not offer any training on sales.
Does Coffee Shop Millionaire Work?
---
No, it doesn't. If you are a newbie, you won't be successful by jumping into local marketing with no experience with online business. Even if you have some experiences, this program does not educate you to be a successful local marketer as it does not provide step-by-step training.
In a nutshell, Coffee Shop Millionaire won't make you a millionaire with the basic fee of $37.
If that's all you need to know, you can stop reading this review here. If you are curious to know what I experienced or what I saw inside the program, read on.
Here is What I Experienced
---
From the time of signing up to the actual training, Coffee Shop Millionaire surprised me over and over again (in negative ways). From here, it's going to be a list of my Coffee Shop Millionaire complaints.
Complaint 1:

Homepage – All Hype, No Information
Anthony has two homepages; coffeeshopmillionaire.com and thecoffeeshopmillionaire.com.
Initially, I was not aware of the second homepage. It seems that it is about a newer product that Anthony created, which is called K.I.S.S.
The homepage looks more updated and in style. I will look into this new product perhaps in a separate blog.
So, just like most of you I assume, I initially went to coffeeshopmillionaire.com and what I got there was just a lengthy video and nothing else.
Uh oh, a homepage with a video only… a big "scam" warning to me…
Very typical for this type of video, no time span was given so I had to patiently sit through the entire thing without knowing how long it is. Do you know how long the video was? 48 minutes!
I was hoping that it would at least give me some information about the product. Nope, it didn't. It was all Anthony's sales pitch, the usual stuff you know. A story of Anthony's girlfriend who hated her boss and finally got out of the misery of working a 9-5 job, testimonials of successful members or Coffee Shop Millionaire, how they love the freedom as an internet marketer, etc. My husband was in the same room at that time and was giggling as overhearing the video.
Don't waste your time watching it. It doesn't tell you anything about the product.
By the way, Anthony kept saying, "hit the button right now before this video finishes for the special offer of $37!"
But long after the video had ended, this popup appeared when I moved the cursor to close the page.
So, for your information, I ended up signing up for $27 even one hour after the video ended.
You know I already had a very bad feeling about this product… What Anthony stated was already revealed to be not all truthful. Then, how much can I trust in this product right?
Just to peek the inside of it, however, I decided to give up on my $29.56 (including tax), hoping I would get a refund as they guarantee. (more on this later)
Complaint 2:

Upsells – Let Me Just Sign Up Please!
If you are going to signup for this product, expect a sequence of upsell videos BEFORE you complete the signing up process. I'll list them below so that you can skip them.
"Six Figure Success Club"
The price for this? They had a Suggested Retail Price of $997 scratched out and then said only $297 today.
Click "No Thank you."
Another video still pushing the same product, "Six Figure Success Club."
Now $297 is scratched out then it's $147 for the last chance! (I really hoped this was the last one!)
Click "No Thank you."
Another video for another product. "Direct Email Coaching by Anthony" which is worth $5000 according to him but it says it's only $197 today.
Click "No Thank you." (Geez, can you just let me sign up???)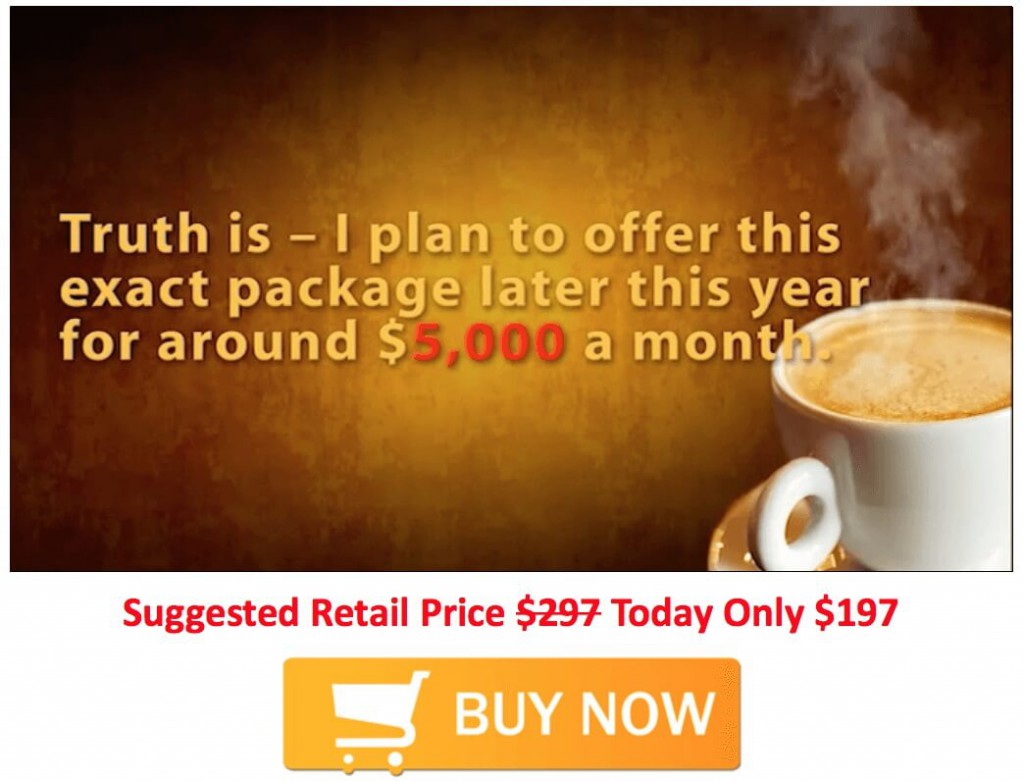 Then you finally arrive at the payment page. They ask for your phone number here by the way.
When I completed the purchase, it was 8:33 PM on Tuesday. My product was supposed to be sent to my email address, but I didn't see it. I kept checking and I still didn't see it. I checked my spam folder and it wasn't there either.
Complaint 3:

 Cannot Login – Where is My Product???
It seems that missing product is what many people have experienced with Coffee Shop Millionaire as I found the below comments on their customer support page. No one has ever responded to these inquiries.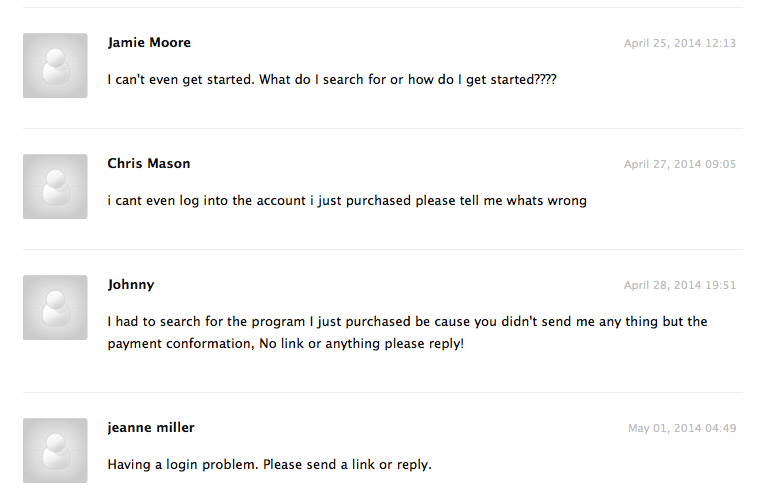 After one hour of waiting at 9:30 PM, I decided to email their support team rather than leaving a comment on this support page.
In case you are also experiencing missing product with Coffee Shop Millionaire product, here is the contact info.
support@coffeeshopmillionaire.com
888-402-3536
It wasn't until at 8:30 AM next morning that I found a reply from the support team and finally could access to the product.
It had been 12 hours since I signed up. What a hassle.
Complaint 4:

Missing Offer
Once you're inside, here comes another upsell on the welcome page.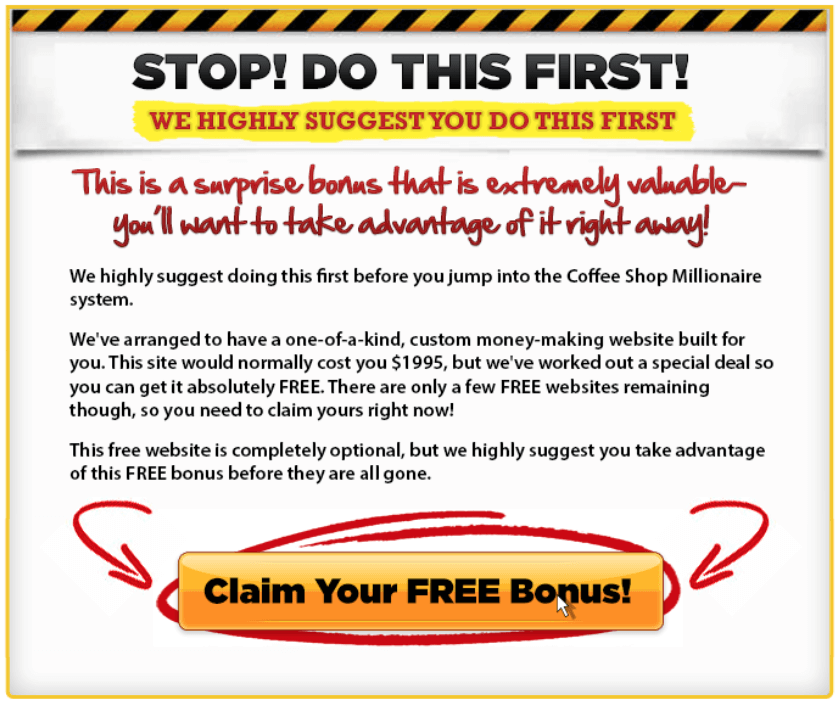 The offer is a $1995-worth website (according to them) all built for me for free. Well, I already know how to build a website and am fully aware that this is another upsell tactic, but for the purpose of this review, I clicked the "Claim Your FREE bonus!" button.
It took me to another video (about 10 min). At this moment, I started getting really frustrated.
The video was all about how an "information website" works and how much money I can possibly make by utilizing it. It briefly touched base with hosting, domain name, how to choose a good niche, or how site ads make me money, etc. So the video could be a bit educational for a complete beginner.
The point of the video is, although the website is provided for free, I still need to purchase hosting and a domain name from the company called "Purely Hosting." It seems that the company sells hosting in packages, and the video emphasized that I need to sign up either for a 2-year or 4-year package for a quicker and better results in making money.
I got really curious how much they will charge for the packages.
But you know what happened when I clicked the sign-up button? It took me to a "404 NOT Found" page!
Apparently this FREE offer sitting on the welcome page no longer exists. So unprofessional. It gave me the impression that Anthony has in fact abandoned this product and no longer updates it.
Complaint 5:

 Poor Lessons – Some Videos Do Not Even Play
There are 12 modules of video training and each module contains 1-3 videos. Each module also provides a downloadable "Action Journal" (list of action assignments) but the journals are very brief and do not cover the materials in depth.
The PDF versions of the slides are also available. The dates on these materials indicate most of them were last updated in August 2012.
Apparently, these trainings are at least 3 years old. Moreover, beware that some videos are not even playable. Below I list the title of each module, the length of the video and not playable videos as "N/A."
Module 1 "Getting Started"
Video … N/A
Module 2 "Your First Campaign"
Video (1) … N/A
Video (2) … 6:32
Module 3 "Finding Clients"
Video … 22:13
Module 4 "Your First Client"
Video (1) … N/A
Video (2) … 2:44
Video (3) … 12:07
Module 5 "Getting Paid"
Video (1) … N/A
Video (2) … 7:22
Module 6 "Local SEO"
Video (1) … N/A
Video (2) … 8:56
Module 7 "Social Media"
Video … N/A
Module 8 "Video Marketing"
Video … N/A
Module 9 "Email Marketing"
Video (1) … N/A
Video (2) … 4:19
Module 10 "Upselling & Referrals"
Video (1) … N/A
Video (2) … 6:15
Module 11 "Follow Up"
Video (1) … N/A
Video (2) … 11:34
Module 12 "Scaling Bigger"
Video (1) … N/A
Video (2) … 5:48
Coffee Shop Millionaire Refund
---
If you wish to get a refund from Coffee Shop Millionaire, I strongly suggest you to directly contact ClickBank, which I did.
ClickBank is the affiliate network that distributes Coffee Shop Millionaire as an online product. From here, I will walk you through how I got my refund of $29.56.
First, click this link, and it will take you to a page looking like below. Click "Contact Us."

It takes you to the list of products you purchased via ClickBank. Unless you have other products through them, you will see only "Coffee Shop Millionaire" listed there.
Click "Get Support."
Choose "Refund Request."
Under "What problem are you having?" you can simply choose "More options" and it will give you other possible reasons of cancelation. I chose "I was not satisfied with the product/Product did not meet expectations."

After that hit "Send" and you will get a ticket confirmation like below. 

I sent the request for refund on Saturday, Dec 26 at 1:43 PM, and received the refund confirmation on Tuesday, Dec 29 at 11:21 AM. 
So, it took only 3 days for the refund to get to me, which was quite fast. 
Again, if you are aiming at getting a refund from Coffee Shop Millionaire, I suggest you do so directly through ClickBank.  
Is Coffee Shop Millionaire a Scam?
---
I cannot call it a total scam as they did have a product. However, I'd very much like to call it very close to a scam due to the poor quality of their content, countless upsells, and so many deficiencies found in the system.
My Final Opinion on Coffee Shop Millionaire
---
The overall impression I got from this product is that the owner Anthony Trister has abandoned this program 3 years ago. Nonetheless, he still keeps it up there on the web and is getting money from people, which is not right at all. No wonder there are so many Coffee Ship Millionaire complaints on the internet. The owner's goal clearly is to get as much money as possible from people while giving no support for their success.
Will Anthony make you a millionaire as you sit in a coffee shop and work on your laptop? Not a chance. Put your money back in your wallet.
This product is not worth your hard-earned money.
Overall Grade:

F (35%)
If you enjoyed this article, please share so that it would prevent other people from purchasing Coffee Shop Millionaire.
Tired of low-quality, dishonest products like Coffee Shop Millionaire?
See for yourself what a real legit program looks like.
And Yes, you can try it for free. 🙂
Yuko