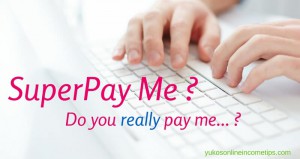 Name … Superpay
Website … Superpay.me
Price … Free
Owner … 99Ventures
Overall Rank … 30/100 – Not recommended
What is Superpay Me?
---
SuperPay (or Superpay.me) is a GPT (Get Paid To) site that pays you when you complete offers, click ads, participate in trials, and fill out surveys. SuperPay.me has been online since May 2012.
Pros and Cons
---
Pros
Free to join

Low minimum cash out – only $1.00

Fast payment

Several payment options – Paypal, Payza or Skrill as well as gift cards
Cons
No guarantee to qualify for every survey

Low referral commissions

Many complaints on the web about non-payments

Most offers are limited to English-speaking countries (USA, UK, Canada, Australia)

No forum, no community interaction

Poor support
How Much Is It?
---
Superpay.me is completely free to join.
Who is Superpay Me For?
---
Superpay.me is for anyone who likes to earn extra income online. No particular skill is required, but you have to be willing to provide your personal information or opinions. Even at the time of signing-up, you need to give them your physical mailing address (including country) in addition to the usual basic info like your name, email address and password. They do not ask for your phone number though.
Can You Make Money?
---
The answer depends on how much money you are looking at. I have filled out several surveys, 5 min to 15 min each since I joined at SuperPay.me and hardly made $3 altogether, because I didn't get qualified to be paid for some surveys. (more on this later)
You can easily get the realistic expectation of earnings at Superpay.me when you look at the data they provide on the homepage. Currently, Superpay.me has 373,248 members and has paid $363,503.98.
It feels a lot but do the math. How much is a member's average earning?
It is only $0.97 (less than a dollar!).
You can also see other member's payment proof under the "Reward" tab. As you can see, people are not making more than $5. The list goes on and you can find a few members who got paid more than $10. However, they are scarce and most payouts are anywhere around $3.
So, the answer to the question "can you make money?" is Yes, but it is going to be only a couple of bucks.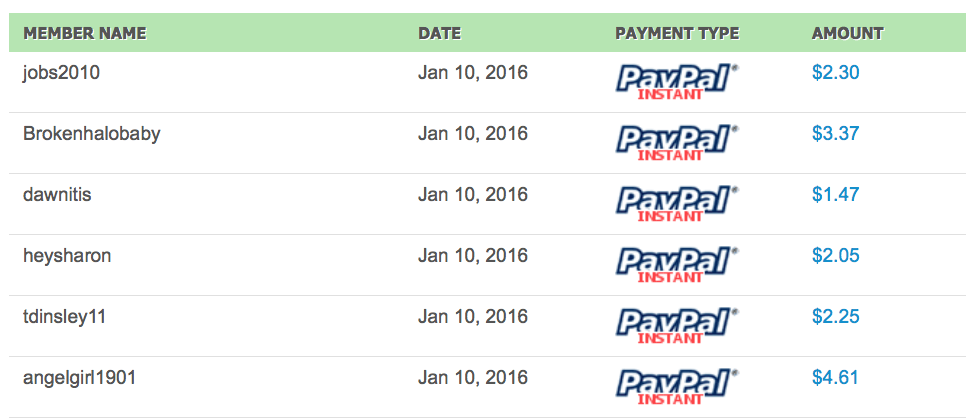 How Do They Pay You?
---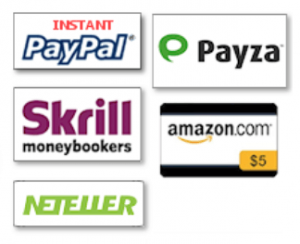 They provide several payment options such as Paypal, Payza, Skrill and gift cards.
Their minimum cashout is as low as $1.00, and it does not increase after each withdrawal, which is a plus. The payment process is quite fast as well. Once you are verified for using "Instant" PayPal service, you can get paid multiple times per day.
Beware though that there are quite a few SuperpayMe complaints on the web about their non-payments. Quite a few people are reporting that their accounts suddenly got suspended, and after all the hours and efforts they put in, they didn't get paid.
This is not right… The company should have given those members a prior warning as to what they are doing wrong before suspending their accounts. 

Superpay.me is very strict about users following their regulations. Pay special attention to the following terms in order to avoid your account get suspended.
Member must be 18 years or older to register.

Members repeating offers on multiple sites will be banned.

Proxy, VPN, public internet connection

 and shared IP addresses are NOT permitted. 

Only ONE member account registered or operated in each household.
How D
oes it Work?
---
Superpay.me is a GPT (Get Paid To) site, so basically you will have to to complete tasks at their site to get paid. The tasks are mainly surveys (very frustrating), watching videos, and signing up for trials (free or paid).

From the menu bar at the top, choose "Earn Money" or "Offer Walls" and you will be taken to the list of tasks to choose from. Click on the title of the offer you want to try.
Each offer tells you how much you can earn and the rating by other members who have done it in the past, on a five-star scale. However, most offers do not give the time required.
What to Expect with Their Surveys
---
Keep in mind that at Superpay.me, you may disqualify for a survey after 5-10 min into it. This happened to me a few times, and this is the reason I barely made $3 after trying 6-7 surveys. It really IS frustrating.
They would ask me for personal information such as race, occupation, age, address, marital status, children, household income, insurance, etc. and keep taking me to various survey sites one after another, that would ask for similar information. After spending a good 5-10 min answering all of their questions, I would get a pop-up saying I don't qualify for the survey!
Excuse me, but did you not just take all the personal information from me??? And are you not going to compensate me for the time and effort whatsoever?
This alone seems a borderline scam to me. If you are still going to try Superpay.me, expect similar experiences.
Superpay Me Referral Program
---
Superpay.me has a referral program that pays you 25% of the member's total earnings you referred to the site.
There is no limit to the number of people you can invite to the site, so it sounds like an excellent opportunity for extra income.
However, you need to take note that the majority of members do not stay with Superpay.me when they realize how low the payouts are and how frustrating the system could be. These downsides make it hard to promote the program and keep people happy. Building a big downline that will bring you sufficient income could be very challenging and time-consuming. To me personally, it feels like a waste of time and effort.
These downsides make it hard to promote the program and keep people happy. Building a big downline that brings you sufficient income could be very challenging and time-consuming. To me personally, it is not worth my time and effort.
Support at Superpay Me
---
You can submit a ticket when you have a question or issues with the site. They claim they reply back within 24 hours.
There is no forum within the system, though, which I feel is indispensable for a GPT site like this. Superpay.me does not offer any ways for members to interact with one another. 
Members should be able to communicate with the company staff and with other members freely. That way they can exchange information such as their experiences with the site, tips for earnings, recent changes in the system, issues they encountered, and so forth. Normally, a forum is where you notice the first signs of problems in the program, like payment delay or non-payments to its members.
My Final Opinion on SuperpayMe
---
Superpay.me is free to join, has low minimum cashout, and their payments are swift.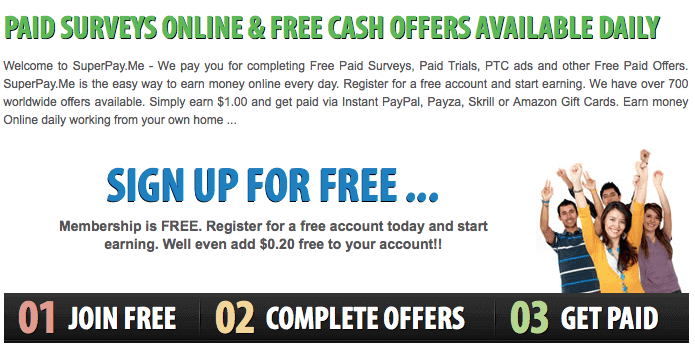 However, I do not recommend it due to the following factors.
Qualifying for surveys is pretty much hit or miss

Earning potential is small for the time you invest

The risk of your account being suspended with no prior warning is not fair
Overall, I do not see that Superpay.me can become a reliable source of income for you. It requires you to invest a good number of hours of your day just to earn a few extra dollars. 
Overall Grade:

F (30%) 
By the way, the negative factors I discussed here are not particular to Superpay.me but are quite common among GTP type programs.
Rather than wasting time on these GTP sites with the risk of not even get paid, I would recommend you to invest your time for better ways to earn real money online. You can check out my tutorial "Online Income 101" that teaches you step-by-step how to start your own online business. 
If you have comments, questions, or wish to share your own experience with Superpay.me, feel free to leave them below!
Yuko