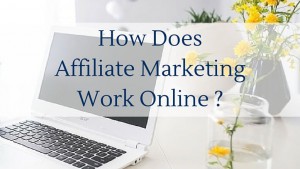 Affiliate marketing (or Referral Marketing) has been around in the business world for decades. Multi-Level Marketing (MLM) is a good example of that. People purchase or join a service through you and you get a commission. But what is affiliate marketing online? How does it work and how is it different from traditional affiliate marketing like MLM?
The big difference is while traditional affiliate marketing heavily relies on word of mouth and you actively have to look for potential customers, with affiliate marketing online customers come to YOU (your website) and purchase. You do not need to deal with each prospect. Sometimes a purchase gets completed while you are sleeping.
You Don't Need Your Own Products
---
When you attempt to make money online, essentially there are two ways to do it.
Sell your own product on a website.

Sell someone else's product on a website.
The second one is affiliate marketing online. You promote other's products on your blog site or website and get a commission by doing so. 
For example, if you promote a vacuum cleaner sold at BestBuy, your play the role of their salesperson.
Instead of being hired as BestBuy's salesperson, you register with their affiliate program and become an affiliate member.  (And Yes, BestBuy has an affiliate program)
You promote their vacuum cleaners through your online content (blog post, video, etc.) and when someone makes a purchase, you receive a commission. It's that simple.
Companies do not charge you to become their affiliate either. Why not? Because it is way cheaper for them to have you, an affiliate member, promote their products rather than creating a TV commercial or hiring salespeople. It's a win-win scenario. 🙂
Most of the major companies have an affiliate program nowadays. There are practically millions of products/services you can promote online.
Affiliate marketing online is by far the most beginner-friendly way to start receiving passive income because you don't need to develop and sell your own products.
It does take time to create a large audience to your website, but as long as you keep working at it you'll get to the point where sales are made everyday without you doing the sales.
From here, I will walk you through how affiliate marketing online works.
5 steps of Making Money with Affiliate Marketing Online
---
The process of affiliate marketing online can break down into 5 steps. 
You have a blog/website

You pick a product to promote

You sign up for the affiliate program

You market (write about) the product

A visitor purchase through your blog/website and you earn a commission
1. You Have a Blog/Website
It is essential that you have a blog site or website if you want to succeed making money as an affiliate.
Sure, it is possible to promote a product using social media such as Facebook or Twitter. But then you will also have to market toward your friends and family members… Do you want to spam them with your affiliate link? I don't think so.
Your own site is the foundation of your affiliate marketing. It is where visitors come and learn about you and the product you promote. They gradually build trust in you, bond with you and become a long-time customer.
No one is going to buy from a stranger who they just met on social media. A website is a must for your affiliate success. 
"Website? I don't know how to make a website? I am not a tech savvy!" I know, it sounds totally daunting, doesn't it? Don't worry; you are not the only one who feel like that. I used to feel the same way!
I knew nothing about building a website, coding or anything. Creating a website on my own felt almost scary to me!
However, it turned out to be not bad at all once I tried it. All you need is a right tool.
The one I used is called SiteRubix.com (it's free), and I explained all the process in this post "How to Build a Website Free."
Give yourself a try. You will be pleasantly surprised how simple it is. 
2. You Pick a Product to Promote
A niche to promote products within need to be carefully chosen. I highly recommend picking something that you are knowledgeable and have lots to talk about. Read this post to know how to pick a perfect niche for you. 
Do research also. Google search by typing in "[product] + affiliate program."
Let's say you are a mother of a toddler and have lots to talk about life with a baby. Baby food, baby clothes, baby toys, etc. Then you go to Google search for the keyword "baby products affiliate program." The result will show you the companies that sell baby products online and have an affiliate program. 
Keep in mind, the key to success is to choose products that you feel confident to recommend to people.
Remember, trust is vital in affiliate marketing online. Once you promote a crappy product, your customers bought it, and they will never come back to your site or worse, spread the bad reputation about you on the internet. Promote what you believe in, only.
If you have actually used the product and liked it as a customer, that's awesome. That's the best one to promote.
You can share a lot of positive aspects of the product, point out shortcomings, and give tips to make the best of the experience as a user. Online readers always resonate better with your personal stories.  
Check if companies of your favorite products have an affiliate program. In case you couldn't find any companies that you can join as an affiliate, you can always go to the mighty Amazon. 🙂
Who doesn't like to shop at Amazon? It's the most popular shopping destination in the online world and of course, they have an affiliate program called Amazon Associates.

3. Sign-Up for the Affiliate Program
Once you picked a company, you can sign up for their affiliate program.
In the signing-up process, many programs ask for your website information. (URL, site name, what it's about, how much traffic you have, etc.)
You would want to have the basic setups done on your website with a few pages before registration. This is same with Amazon affiliate program. Before the approval of your membership, they manually review your site.  
You may have to wait 2-3 days at most for approval. Even if you didn't get approved by one company, do not feel discouraged. There are many other companies that you can register.
Once your registration is completed, you will have a unique "affiliate link" connected to your account, through which the company keeps tracking how many sales were made through you.
4. You Market the Product
Now it's time for you to "market" the product.
For example, you have a baby formula maker that you use everyday for your baby and love it. The company has the affiliate program so you joined. Now you are going to promote it, but how?
Basically, you create content about the baby formula maker on your website. The most common method is to write a blog, but you can also make a video. The majority of online searchers nowadays love visual content. 
Either it's a blog or video, describe the size, price, how it works, how you can clean it, why you like it, things that you don't like about it, and overall share all the pros and cons with your audience. 
The quality of information and honesty is essential. Be yourself and share your thoughts just like you are talking to a friend.
Approach this step with the mindset that you are trying to help a good friend. Provide as much helpful information as possible. Make the experience a good one for your visitors. 
Within the content (blog post or video, in this case), you embed a unique affiliate link assigned to you.
If it's a blog, you can add a text link to the word "HERE" as in "To find more about this product, click HERE." You can also embed the affiliate link in an image or place a banner.
Just be mindful not to fill your content with too many links. Again, don't try to sell. Try to help instead. People buy from someone who helped them out or added value to their lives. 
5. A Reader Purchases and You Earn a Commission
A visitor liked the baby formula maker you recommended and clicked the link to be sent to the company's website. (or Amazon.com, Walmart.com, BestBuy.com, etc.) She purchased the product and completed the order. The company sees that this new customer came through your affiliate link, and paid a commission to your account.
Most companies provide payment options. They are normally direct deposit to your bank account, a check by mail, or PayPal. Some companies even offer gift card options as a form of payment. Payments are made either weekly or monthly when the balance hits a certain bracket as $50 or $100. 
This is how affiliate marketing works online. Your job is to promote products on the internet. You don't have to deal with payment process or customer service. They are all done by the company that owns the product. 

Affiliate Marketing Online – Why Not?
---
Interested in trying affiliate marketing online? Have a good idea what niche you would select?
Google search affiliate programs within the niche and see what you will find. That should give you a good idea as to what direction you want to take your online business. Do brainstorm.
If you are not sure what products to promote, you can join one of the affiliate networks and browse through companies inside the network. This is another great way to brainstorm.   
I hope this article helps you understand what affiliate marketing online is all about. Do leave any questions or comments below. Do you want to share with the community what products you are going to promote? Let's hear them! As always, thank you for sharing your thoughts. 🙂
Yuko