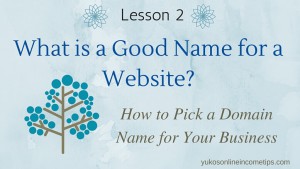 You must have picked a niche for your website by the time you are reading this tutorial. If you haven't picked one yet, please go through the previous lesson first: What is a Niche?
Ok, now is almost the time to launch your very first website. But before attempting to build a website, let's have two things ready: Website title and domain name.
Why? Because they are the information you have to type in as you create a website, so it's better to have them in place prior to proceeding to the site builder. In this post, I'll explain what makes a good name for a website (and domain name).
Your site name (title) is most likely going to be your domain name too. The two do not need to always match, but it's better if they do for marketing your business down the road.
What Is a Domain Name?
---
Let me touch base for those who don't know what a domain name is. A Domain name is what you see in the URL bar when you visit a website. For instance, when you visit Amazon, "amazon.com" is their domain name. It's like an address that takes you to the homepage of the site.
The most popular ones are with dot com (.com) and others could be with dot org (.org), dot net (.net) etc.
Memorable and Brandable
---
Choosing a good site name (hopefully, matching with the domain name) is vital to branding your business. It must be relevant to your niche and easy to remember. So, I want you to take some time to brainstorm and create one that you are truly happy with.
Take this site of mine as an example.
Site Name: Yuko's Online Income Tips
Domain Name: yukosonlineincometips.com
I was lucky that my site title was also available as a domain name with dot com. To tell the truth, though, "Yuko's Online Income Tips" was not the name I first came up with. It was something else in the beginning.
As a newbie, I didn't fully understand the importance of having a memorable and brandable name, so I named this site with some lengthy phrase: "how to make money online safe no scams" or something like that.
Eventually, I realized the need to change the name of my website (plus domain name) and I did. The transition was smooth thanks to the support team at Wealthy Affiliate University, but if you could avoid the detour I took, you should.
This is How I Selected One
---
Ok, from here, I'll walk you through the process with the example of my new site. As I shared in the previous blog, I decided to launch a new website about Himalayan salt.
You can read about it here: "What is a niche."
What makes a good name for this brand new site on Himalayan salt? What names are already taken by others? Right here, you will see how I came up with a name for my new website.
STEP 1. Brainstorm and list up
When people hear the name of my website, they should be able to easily guess what my site is about, which is Himalayan salt. I will be covering Himalayan cooking salt, salt lamps, candle holders and overall benefits of this natural product by Mother Earth. What title would be relevant?
At this stage, jot down any phrases that come to your mind. Later in the process, you have a chance to check their effectiveness one by one. I ended up with a list of 10-12 terms and phrases at the moment.
STEP 2. Do They Satisfy The Checkpoints?
Then I started checking each one of them in the respect of the following factors. I eliminated any candidates that didn't meet all four checkpoints below.
Checkpoint 1: Easy to remember – You don't want a name that no one can ever remember to tell their friends. Don't estimate the power of word-of-mouth for marketing your business. Avoid uncommon words, and keep the name short.
Checkpoint 2: Easy to type – Avoid hyphens, special characters, Roman numerals, and lengthy words. If possible, I would suggest avoiding numbers too, as it tends to perform poorly with both ranking in Google and branding.
Checkpoint 3: Grammatical – It must make perfect sense semantically. Check spelling, missing articles ("a" or "the"), plural or singular, etc.
Checkpoint 4: Unique – Do not include an already established brand name. It can get your website confused with other famous sites. If you are unsure, use the phrase in a Google search and see if any authority sites turn out.
At this point, my list was reduced to 8 candidates.
Himalayan pink salt

Pink Himalayan salt

Pink salt cure

Pink salt soul

Pink salt love

Pure pink salt

Pink salts

Pink salt
STEP 3: Are They Good Keywords?
If possible, your site name (and domain) should contain keywords relevant to your niche.
What are keywords?
Keywords are the words or phrases that people type in the Google search bar to perform online searches. If someone wants to find out what Himalayan salt is good for and type in "what are the health benefits of himalayan salt," then the phrase is the keywords.
If I have written a blog on the topic and included the exact phrase within the text or used it as a blog title, my page may appear in someone's search results. That's how people discover your website. We call those visitors, "organic traffic," who come visit our sites through online searches. It's going to be a huge part of your website success and this is why online entrepreneurs make a big fuss about keywords.
Generally, the longer the phrase is, the better it performs as keywords. They are called long-tail keywords, and more likely have less competition, hence result in higher rankings of your articles in Google.
However, "what are the health benefits of himalayan salt" is neither proper as a site name (too long, too hard to remember) nor really relevant to my niche for the entire website.
So, I'll stick to the list and check how effective each one will be as keywords.
You need a reliable tool to check keyword scores. I use a tool called Jaaxy.
Not to overwhelm you with all the data, below I'll share only the score of each phrase (out of 100 points).
Himalayan pink salt –

9 … too low

Pink Himalayan salt –

8 … too low

Pink salt cure – 96

Pink salt soul – 87

Pink salt love – 87

Pure pink salt – 96

Pink salts –

11… too low

Pink salt –

2 … too low
I thought "Pink Himalayan Salt" sounds perfect as it is exactly what my new site is all about. However, the term is hopeless as keywords. Only 8 points out of 100 points? Why so low?
Well, the data at Jaaxy indicated that the phrase has an excellent search volume. (5142 a month!) It means over 5000 searches are being performed by people under the phrase "pink himalayan salt." However, there is too much competition out there (321 pages). Meaning all those pages on the web are using the exact phrase somewhere within their sites (as the website name, blog title, etc.) 
So most likely, I will have to give up on "pink himalayan salt" as well as "himalayan pink salt." 🙁
After all, it might be better to drop the word "Himalayan" from the title. Many people may not even know the pink-colored salt that they are searching about is called himalayan salt. 
It could also be tricky to type the word accurately. (Checkpoint #3 – Title has to be easy to type)
The two at the bottom, "pink salts" and "pink salt" are both short, simple and easy to remember, but they are not an option either due to their poor keyword scores. 
What Title Do You Have in Mind?
Be sure to check its effectiveness as keywords. A tool like Jaaxy is indispensable to get the answer. If you are serious about monetizing your website, please consider getting a tool that you can trust, sooner than later. Start familiarizing yourself with keyword research. 
I highly recommend Jaaxy. It's beginner friendly, and only $19/month, way affordable compared to many other keyword research tools out there. 
Also, it's an online tool so you can use it from any mobile devices as long as you are connected to the internet. 
What phrases do you have in mind for your new website? Try them below at Jaaxy and see what score pops up. You can try the first 30 searches free at Jaaxy. 
STEP 4: Is DOT COM Domain Available?
As I mentioned, matching site name and domain name is crucial for website promotion, so I always aim at fulfilling this goal.
Also, I only go after Dot-com domains.
You may be surprised that the majority of people are still with the assumption that dot com (.com) is all that is out there. To them, dot-org (.org) or dot-net (.net) or any other unfamiliar domain may appear untrustworthy. Don't take the risk of losing a portion of traffic (visitors) to those people.
Dot-com domains also tend to get ranked quicker and better in Google. 
If you are at all serious about building a successful business over the long term, then a dot-com domain for your website is crucial.
Luckily, Jaaxy comes with the domain availability feature as well. It shows availability of dot-com, dot-org or dot-net. (the only domains that would serve for your website success)
Based on the effectiveness score in the previous section, I have eliminated the four candidates with a low score. Now I am left with the four with the score of 87% or higher. They are:
Pink salt cure – 96 (out of 100)

Pink salt soul – 87 

Pink salt love – 87

Pure pink salt – 96
I completed domain checking at Jaaxy for all the four keywords in a minute. Here is the result. 

They are all available for dot-com domain. 
Looking at the search volume and score, it seems that "Pink Salt Cure" or "Pure Pink Salt" seems the best choices here. I somewhat resonate better with the word "pure" than "cure" so I decided to go with "Pure Pink Salt."
The name of my new site has been decided.
It is going to be "Pure Pink Salt" and the domain will be purepinksalt.com!
Do I Need to Buy a Domain Name Now?
---
My answer to that question is "up to you."
A domain name is like a virtual real estate. Once you own it, you are in full control of that entity. Nobody else can own the domain that you own. You can sell it for profit one day if someone wants to buy it. And of course, you can build out an online business on the domain.
A domain name is definitely necessary to purchase at some point in your online endeavor, regardless of your niche, if you are serious about success.
But do you need to buy it at this moment? Well, it depends on how you want to proceed.
From here, you have two possible paths to take.
Buy the domain and start building your website on it from the very beginning. (Domain names are usually $10-$15 per year)

Do not buy the domain and create your website first on a sub-domain. Later on, you can buy your domain name and transfer the website you have built to that entity.
I did purchase a domain name "purepinksalt.com" as I was worried that it will be gone soon.
They say there are around 140,000 new websites created every single day! Meaning, domain names (especially the ones with dot-com) are being taken one after another and getting less and less. If you found a domain that you really like, I recommend getting a hold of it. After all, it costs less than $15 a year.
Find a Good Name for Your Website!
---
I hope this post helped you understand how to find a good name for a website.
In the next post, we are finally going to proceed to the site builder.
I will explain how I purchased my domain name using Jaaxy (Yes, you can do that too at Jaaxy. Now you see it's worth $19) and then how I could launch my new website "Pure Pink Salt" in a few minutes.
My new site is quite empty (at the time of writing this blog) but I am super excited! I will diligently work on developing it and share every aspect of my progress with you.
See you in the next lesson!
Yuko