Affilorama Review for 2015: The name "Affilorama" has been popping up here and there on the internet under the keywords "making extra money online" or "affiliate marketing." This program has been receiving quite good reviews by many online entrepreneurs, so I was curious how good it actually is. I finally had a chance to try it for myself, so here it is my Affilorama review as of 2015.
Name: Affilorama
Website: www.affilorama.com
Owner(s): Mark Ling and Simon Slade
Price: Free Membership, Premium Membership $67/month ($1 for a 30-day trial)
Additional Products: AffloTheme $97, AffiloBlueprint $197, AffiloJetpack $997
Overall Rank: 87 out of 100 

What Is Affilorama?
---
Affilorama is an online learning program that teaches you how to become a successful affiliate marketer and earn income on the internet. It was founded in 2006 by Mark Ling, a very successful online entrepreneur based in New Zealand.
The initial purpose of him starting Affilorama was to teach his affiliates how to promote his products (Rocket Piano and Jamorama) effectively. After nearly a decade since its launch, Affilorama has grown to be an online learning platform with more than 300,000 members who wish to learn how to make money online.
Pros and Cons
---
Pros:
Free Membership lets you explore the program without investment

You can try the Premium Membership with $1 for 30 days

It has one of the biggest affiliate marketing communities

AffiloTool included in the Premium Membership is quite handy

Overall, tutorials are easy to follow and cover a wide range of topics
Cons:
The website is not very user-friendly. It's hard to navigate

Too many options to choose from that can confuse beginners

The program for Free Members is quite limited

They train you with some outdated techniques that can harm your business

The community is not so active or vibrant. It may take a few days to get your questions answered or receive support

No way to connect with the owner, Mark directly

Premium (paid) Membership is expensive, and you still don't get access to everything

Many upsells. The overall cost could add up to over $1200
Who is Affilorama Program Intended For?
---
Affilorama is designed for anybody who is interested in making some extra money online. Due to the original goal of this program (to train Mark Ling's affiliates), the overall focus is on affiliate marketing techniques, so this program could be ideal for newcomers in the internet business world who don't know how to create their own products to sell online.
It provides various levels of training, from the basic concept of affiliate marketing to more advanced promotional skills. You do not need to have prior knowledge or experience to join Affilorama.
How is Affilorama Support? Can You Receive Support From Mark Ling?
---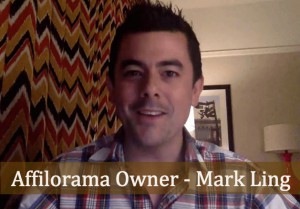 You can receive support from the community of members within Affilorama. Questions and comments are shared via forums and message boards, which is nice. 
The forum, however, looks to me rather quiet and not so active… I realized most of the questions were waiting to be answered for a few days.
They don't have live chat feature within the system, so there is no way for you to receive instant responses. You pretty much have just to post your question and hope for someone to respond to it sooner than later.
I've heard the owner Mark Ling pops up in the community once in a great while, but I have never had the opportunity to see him within the program interacting with other members. Of course, there is no way for us to directly contact him and get help from him.
I am also a member of Wealthy Affiliate, where the members are always interacting with one another. I also witness on a daily basis that the owner of the program, Kyle, responding to questions and commenting on members' progress. I had even received direct messages from him when I needed help with critical matter for my online business.
Having experienced the lively community and personal support from the owner himself at Wealthy Affiliate, being a part of Affilorama left me feeling quite helpless.
I couldn't make any connections with members there. I also couldn't help but wonder how devoted Mark Ling is toward the program he created and how much he cares for the success of his members.
How Much Does It Cost?
---
The pricing at Affilorama really confused me in the beginning. I thought once I became a paid member I could access all the features that they provide. I was wrong! It's not that simple at Affilorama as they have many upsells geared towards even paid members.
Here is the summary of their products as of October 2015.
Free Membership … Free
Premium Membership – $67/month ($1 for the first 30 days if you upgrade within 7 days)
Additional Products:
AffiloBlueprint – $197 (one-time payment)
AffiloJetpack – $997 (one-time payment)
AffiloTheme – $97 (one-time payment)
I'll discuss these products in more detail below.
What Do You Get from Free Membership?
---
1. Quick Start Guide to Affiliate Marketing
This free guide comes in 30 pages. It guides you through basics of what affiliate marketing is, how it works, and things you need to bear in mind to be successful.
You can click to enlarge the screenshot and see the list of 12 chapters in the Quick Start Guide.
If you have absolutely no idea what affiliate marketing is, this could be a helpful guide to give you a general idea. However, it doesn't provide step-by-step instructions in the manner that you know what to do right after you finish the guide. It could be a little too vague for complete beginners to fully understand where to start.
2. Video Lessons (119 videos)
You may think, wow, 119 videos for a free member? That's quite generous! Well, I watched these videos and honestly, I didn't find them very helpful. And I watched them already with a background knowledge of how online marketing works and still didn't comprehend what they are trying to teach.
If I were watching these videos as a total beginner, I am sure I would have no clue and have left feeling overwhelmed. I wouldn't know what to do, or where to go after the first lesson.
Not sure why, but the free videos just didn't feel very engaging or interesting to watch, so to speak. I also noticed that, under the same name of the presenter attached to some of the videos, the voice could be completely different. This indicates that it is not really the presenter that is speaking in the video. And of course, that presenter was never Mark Ling.
Once again at Wealthy Affiliate, all the tutorial videos are done by the owner, Kyle, and I must tell you that getting familiar with one person's voice truly helps you to your comfort level and as a result, comprehension level. This must be the reason I couldn't feel very engaged in watching the free videos at Affilorama.
What Do I Get from Premium Membership?
---
As mentioned earlier, Premium Membership costs $67 every month. Compared to other online marketing programs out there, this is on the expensive side.
But you can try it for $1 the first month, so why not give it a try right? I upgraded to Premium, just to see what's inside and if it really is worth $67/month.

1. Premium Magazine
I believe this is quite a new addition to Premium Membership as I didn't find much information about it online. When I upgraded, Issue #1 was available. They say we will receive updated editions as they are released.
The magazine has a good volume (154 pages) in the format of a PDF file, and I find the content very educational and informative.
The main theme of Issue #1 was making money by blogging and how you can start out. I downloaded the PDF version on my iPad and could read it anytime without WiFi. Overall, I was very satisfied with this magazine.
The magazine was great, but here they also promote PLR (Private Label Rights) content within Premium, which is another outdated training.
As a Premium member, you receive 30 new PLR articles every month. In the month I signed up, the niche was "Music Production." This is another thing of the past and will lead you to content marketing failure. If you publish them on your site, the search engines will see them as duplicate content and penalize your website.
PLR may have served well with your rankings back in 2010, but that is no longer the case. I strongly recommend to stay away from PLR and create your own unique content, unless you don't mind losing all rankings!
2. Blog Bootcamp

(4 videos)
This package is designed to train you with how to make the best out of blogging for your business.
Here in the training, however, there is more misinformation that will negatively impact your business. It's the emphasis on link building. One of the four Bootcamp videos is entirely dedicated to this training of backlinking techniques.
Link building strategies are from early 2012 and no longer work after the Google Panda and Penguin updates.
Nowadays, websites that placed emphasis on backlinking are being removed from the search results. Once again, this outdated training can seriously hurt rankings of your website and as a result, lead your online business to failure.
3. Premium Vault

(19 videos)
This package has 19 videos and teaches you the latest marketing techniques. The length of each video ranges from 10 minutes to 108 minutes.
Interestingly, 7 out of 19 videos are about making your own digital products to sell. 
This could be a path you would want to take down the road if you are aiming at producing a significant amount of income. However, it shouldn't be your primary focus during the early stage of your online business.
There are also two videos on driving traffic from Facebook. I found this information rather outdated. 
And some of the data (graphs) that Mark Ling used in these videos are from back in 2011. Go figure huh. 
Nowadays, it is common knowledge that followers on your Facebook fan page are not very engaged and does not do much to your website traffic. Social medias such as Instagram and Pinterest are rather on the rise, but I didn't find any tutorials at Affilorama on these two medias.      
4. AffiloTools
This absolutely is a handy tool that is included in the Premium membership. AffiloTools gives you a way to keep tabs on your sites rankings and manage social medias in one place.
You add your website URL, Google Analytics ID#, and Social Media accounts to the tool, and it will pull out all the data on one display panel.
You can check the site traffic during the last 24 hours, unique visitors, site issues, or activities within your social medias. They are limited to only Facebook and Twitter, though. I didn't see options to add other medias such as Google+, Pinterest, and Instagram.
Of course, you can find all this data elsewhere, but having them all in one place could be quite convenient.
Upsells
---
This is the part that confused me. As I said, I thought I would have access to everything within the program once I sign up as a Premium member! Unfortunately, that is not the case with Affilorama and here comes upsells. And I must say, they are all quite pricey!
1. AffiloBlueprint 3.0 ($197)
This one comes with 85 videos and is centered around 13 lessons about finding a niche, building a website, and driving traffic through PPC and SEO.
I am sorry, but I didn't have the guts to invest $197 in trying out AffiloBlueprint myself to report you my personal experience with this package. Through my research online about this product, I have learned that AffiloBlueprint does not even come with any support! That fact discouraged me even more to purchase this product. It means that, if you want any support with this particular product, you must continue being a Premium member by paying the additional $67 every month. 🙁
2. AffiloJetPack ($997!)
Ok, there is no way I can try this package now as I simply do not have that much money! If you have purchased and used this product, I would love to hear what you thought about it!
Click the screenshot below to see what is included in the package.
Again, there are outdated strategies such as PLR included in this package. Is it worth the expensive price tag? I doubt it.
Besides, I learned through my research that AffiloJetPack was designed mainly to train you to be a successful affiliate marketer to promote Mark Ling's products. In other words, he is the one who will benefit the most from your hard work. 
If the techniques you acquire through the training here could be a great asset to your business, I would not mind learning from this package as long as it were already included in the Premium Membership. But it is not. And it just doesn't make any sense to me that we pay as much as $997 to help the owner, Mark Ling, earn more money.
Either way, this product in my opinion is outrageously expensive.
3. AffiloTheme Package ($97)
This is a WordPress theme that comes with free hosting for one year. After that, you will have to join Affilorama Premium membership to maintain your hosting. Here is what's included in the package.
– One year of hosting
– Affilotheme WordPress theme
– Training videos on how to properly use Affilotheme
– Members-Only Forum for support
– Graphics creation tool to create outstanding graphics
So, these are the additional products offered at Affilorama aside from Premium Membership. If you add all of the upsells, you end up spending $1291 in total, plus your premium membership fee of $67 every month!
My Final Opinion on Affilorama
---
Overall I think Affilorama is a good program where you can learn the basics of internet marketing. Affilorama is absolutely not a scam. It is a real program to try to educate you and train you to become a better affiliate marketer.
It is worth a try as it offers a 30-day trial for only $1. You should check it out and see if you like it.
I just do not like all the upsells and the fact that they are all so pricey. If Mark Ling truly wants to help people who are starting out in the online world, he should make the program way more affordable. He definitely should make the Premium monthly fee lower than $67. 
Besides, some information is outdated and it can actually harm your business. Because of this, I cannot conclude that Affilorama is the best program out there. I hope Mark Ling is going to update some of the old training and misinformation as soon as possible.
With its sufficient amount of training for free members, and some useful information covered in the Premium, but also with a sheer number of upsells and old techniques, I would give 87% to this program. 
Overall Grade:
B+ (87%)
If you enjoyed this article, please "like" and "share" so that other beginners can approach Affilorama knowing what to expect. 
Have you been a member of Affilorama? What was your experience especially with the pricey $997 AffiloJet Pack? I am curious!! Share your thoughts below. Thanks!
Yuko 🙂